In this blog item
In this blog item
Use
Efficiency
Technology
Maintenance
The pros
The cons
Summary
Pax 3 Vaporizer review
Reading time: 7 minutes
Posted: 29-06-2021
I have had it for some time now and I am very satisfied with the Pax 3 portable vaporizer from Pax Labs. It is small and fits easily in your pocket. For me, that's pretty important for a portable vaporizer. Pax is known for their quality and innovations. Their goal is to bring an exceptional cannabis experience. The Pax 3 is the latest new version of this design. While the body and dimensions have remained the same as the Pax 2, there have been some improvements under the hood. It even has a bluetooth function. So it's time to take a closer look at this device and write a review about it.
This year I had the privilege of judging with the HighLife Cup. A competition where contestants, growers and coffee shops throw their best weed, hash and other extracts into the fray. The number of entries in such cups can sometimes be high; only the bio-haze category of this year's HighLife Cup consisted of 24 samples. Now I am a heavy smoker, but 24 haze joints in one afternoon is a bit much for me. Here the vaporizer came in handy. Together with the charging chamber reducer you can easily vape small amounts of tasty stuff. Because you briefly vaporize a small amount, it is possible to assess the content quite precisely for taste, smell, effect etc. This is also a great advantage in microdosing, as you can vaporize a very small amount over several times.
Also interesting: "Microdosing with cannabis: Finding the right dose and method"
Use
I find the pax 3 vapes best when the chamber is well and tightly filled. This way, the contents do not evaporate too quickly, allowing you to experience an optimal flavor experience. By taking small, short puffs, as many terpenes and active ingredients as possible are absorbed into the vapor. As I said, if you only want to vaporize a small amount, the charging chamber reducer comes in handy. Heating up the vaporizer is incredibly fast compared to other portable devices. There is no display or screen on the vape, nor are there any control buttons on the outside. There is one button on it. This is incorporated into the top of the mouthpiece and is not noticeable. Together with the colored LED lights in the Pax logo you control the entire device. The minimalist look gives this vape a powerful design.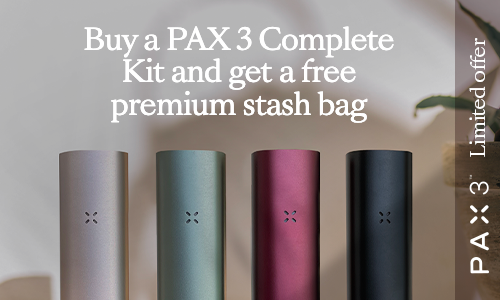 The Pax 3 is equipped with bluetooth. A super cool feature. Through an app you can connect your smartphone to the Pax 3. More about that later. You can choose from four temperature settings on the device, which can easily be changed with a few presses of a button. A low temperature for a good taste experience and a high temperature setting for thick vapor with maximum effect. I always start with a low temperature and gradually increase the temperature during the vapor session. You can easily check the temperature setting and adjust it with the button in the mouthpiece. The mouthpiece is interchangeable and you can choose from a flat mouthpiece or one with a raised edge.The magnetic lid of the filling chamber is super convenient and makes filling easy.
Heating up the vaporizer is very fast. Depending on the temperature used, it is ready for use in about twenty seconds.
Efficiency
When I use my Pax 3, it often happens that after a few puffs I lose focus and get distracted by something or other. Especially when it involves good cannabis. Probably Pax Labs has foreseen that this can happen, because this vape is equipped with an auto-off function. If the vaporizer is not moved for thirty seconds, it stops heating and goes into standby mode. As soon as you pick it up and move the device, it will start heating again. This prevents your favorite herb from evaporating for bacon and beans. So it only vaporizes when you want to vaporize too, so you get maximum benefit from its contents.
The auto-off function also conserves the battery so it lasts a relatively long time. How long depends on the temperature setting taken. Usually, after eight to ten vapor sessions, it is still not empty. Charging with the USB plug is lightning fast with the laptop or an adapter. After one and a half hours it is charged again. Want to check the battery status on the go? Just shake the device and the LED indicator will tell you.
Technology
You can connect the Pax 3 by bluetooth with an app on your smartphone. This gives you the ability to adjust the temperature. You can also choose from five modes which you can also adjust. For example, by choosing the mode "boost", it will heat up faster and cool down slower to generate a higher temperature. The setting "efficient" provides a slower warm-up and a lower temperature to save the battery as much as possible. "Flavor" mode keeps the temperature as consistently low as possible for full flavor. "Stealth" allows you to vape as discreetly as possible. The LED lighting dims so it is less noticeable. It takes on a low temperature. It will also heat up and cool down faster to prevent as much odor dispersion as possible. Pax accessories provides caps to place over the ends to prevent even more odor. But of course you can also put it in a folder.
Maintenance
As with all vaporizers, it is recommended that you keep the device clean. Empty the filling chamber after the herb has been vaporized. This prevents leftovers from sticking when it cools down. And clean the device regularly after some vapor sessions. You can easily do this with the Pax Maintenance kit and some cleaning alcohol. This will prevent leftovers from clogging the air tube and causing a bad taste.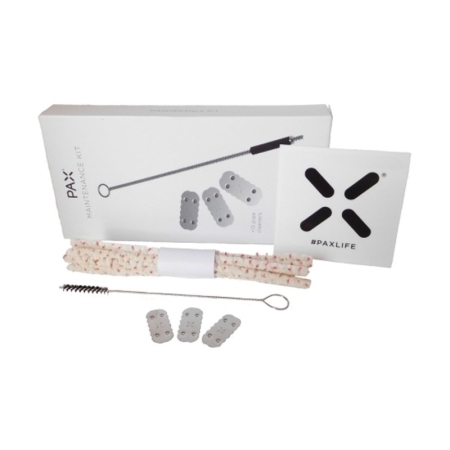 The pros
Very user friendly
Long battery life
Taste experience
Fast on temperature
Stylish small design
Discreet
Individually adjustable temperature
The cons
After prolonged use the vaporizer gets warm
The app tries to know a lot about you
Summary
I think the Pax 3 is one of the better portable vaporizers. Why? Because it is truly portable. It is very small and fits easily in your pocket. Also the small charger is easy to take with you. Although you do not need it because of the long battery life. If you shake the device back and forth to check the charge status and it turns out to be almost empty, you can charge it again in an hour and a half.
Its size and design make it more like an mp3 player than a device for consuming cannabis. With the stealth function you can really discreetly vape. People sometimes look at it strangely because they think they smell something, but because of the very little vapor the discreet function produces, there is nothing else to see.
The Pax 3 is not the cheapest portable vaporizer, but it is well worth the price. Outside of its size and design, the device performs very well. It handles its contents efficiently with maximum flavor experience. It is extremely user friendly and can be adjusted to your liking using the app and bluetooth.
The heating up is super fast. Depending on the temperature used, the vaporizer is warmed up in twenty seconds.
All in all, you buy value for money with this device.
Did you enjoy reading this article and do you like to write yourself? We are always looking for people who share our passion for natural products, who can also translate this into great texts. And we have an interesting reward for this. View all information for writers.
View all blog items
Also interesting
Read these too