In this blog item
In this blog item
Rapé: using tobacco with respect
Cigarette smoking is healthy?
What types of rapé are there and what are their effects?
Caapi Rapé: MAO inhibitor, combine with psychedelics
Mocambo and Passion Flower Rapé: Sniff this rapé for lucid dreams
Cetico and Wild Mint Rapé: A fresh boost to your mind
Rapé Tsunu: Powerful rapé from the Yawanawa tribe
Check Sirius Smartshop for the entire range of rapé blends
How much rapé do you take per person?
Do you have experience with rapé, or other products for sale at Sirius? Write a Review!
Different Rapé Blends and their effects: Learn about Amazonian Tobacco Snuff
Reading time: 8 minutes
Posted: 22-12-2022
How can we heal ourselves? Sirius likes to delve into natural (plant) medicines like magic mushrooms, cannabis and medicinal mushrooms like lion's mane. In this blog, we're going to talk about a less obvious medicine - tobacco!
But in the form of rapé, a medicine from the Amazon forest of South America that consists of several ingredients. Sirius sells different types of rapé and in this blog I will tell you the properties of the different types of rapé for sale at Sirius.
Rapé: using tobacco with respect
How wonderful is it that we can enrich our lives with medicine from nature? For thousands of years, man has lived intimately with the power of Mother Earth. Only recently have we strayed more and more from this connection and it is difficult for many of us to heal ourselves from illnesses and ailments. We have become increasingly dependent.
Rapé is a medicine from the Amazon forest in South America and is considered sacred medicine here. Rapé is used to heal, expand the mind, ground and transform.
The main ingredient of rapé is usually tobacco, Nicotiana rustica. This is a type of tobacco that is much less known to us. In fact, the tobacco industry uses Nicotiana tabacum.
Tobacco contains a lot of substances, including the famous and infamous substance nicotine. In the West, we see tobacco mainly as a "bad" substance, which you quickly become addicted to and get cancer from.
In the Amazon forest, however, indigenous peoples view the tobacco plant very differently. First, tobacco is hardly used here as a recreational substance, but mainly as a medicine.
Second, these peoples believe in the medicinal power of the tobacco plant and thus it is viewed in a totally different light.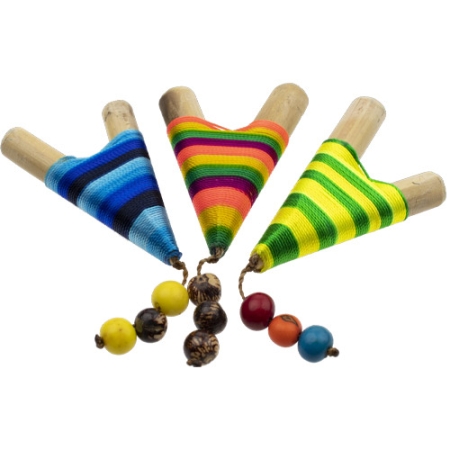 Cigarette smoking is healthy?
Of course, it is the simple to state that tobacco smoking is healthy. We know that tobacco smoking leads to many health problems, such as cardiovascular disease, the development of (lung) cancer, respiratory problems and oral diseases.
Nowadays, government agencies are increasingly emphasizing the harmful effects of smoking and doing more harm reduction. This is done by discouraging people as much as possible from starting smoking and offering alternatives.
This is Sirius' vision: we promote non-smoking! That's why we offer a decent range of high-end vaporizers, making it even easier for many people to switch to vaporizing their smokes instead of burning them.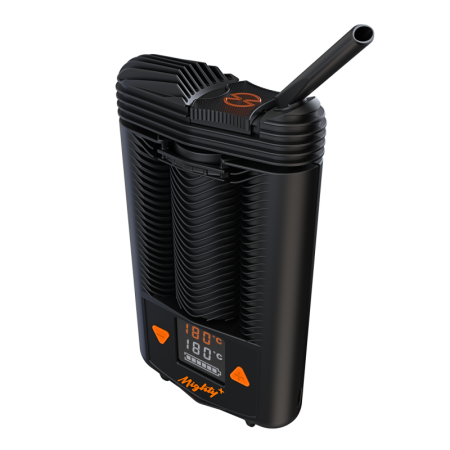 However, rapé is a substance that consists of tobacco. Read on quickly to discover where rapé's power lies and how to use it respectfully.
What types of rapé are there and what are their effects?
Unlike cigarette addiction, rapé use is not about becoming dependent and constantly experiencing the "kick" of nicotine.
Keep in mind that rapé also contains this addictive substance and intention plays an important role in your use. When used thoughtfully and respectfully, rapé can become a tool you can use to enrich your body and mind.
Caapi Rapé: MAO inhibitor, combine with psychedelics
One standout rapé strain is the Caapi Rapé. This strain of rapé contains Banisteriopsis caapi, the vine found in parts of South America including Brazil and Peru.
Banisteriopsis caapi is also the ingredient in the drink Ayahuasca. The substances from this plant ensure that psychedelic substances can be better absorbed by the body. Among other things, the substances harmine and harmaline ensure that, for example, the substance DMT is not directly broken down by certain enzymes in our body, mono-amine oxidase. The term MAO inhibitor (mono-amine oxidase inhibitor) therefore applies to the caapi vine.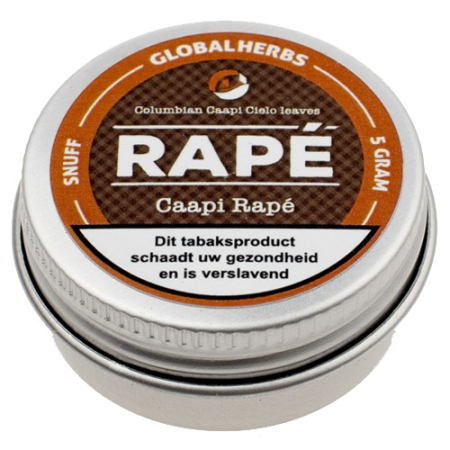 Note: An MAO inhibitor affects the action of other substances, including psychedelic substances such as DMT and psilocybin, for example. Using this Caapi Rapé can enhance a trip with magic truffles or Ayahuasca.
However, this substance also enhances the effects of other substances that are not immediately obvious. For example, substances found in food. Read carefully this list of substances that form a dangerous interaction with an MAOI. An example of such a reaction is serotonin syndrome. In this, your body does not get the chance to break down substances that are converted in our body to the neurotransmitter serotonin. In large quantities, this is dangerous.
Mocambo and Passion Flower Rapé: Sniff this rapé for lucid dreams
Another interesting rapé blend is the combination of passionflower with the lesser-known tree mocambo. Here is some explanation of Mocambo, also called the jaguar chocolate tree.
Mocambo (theobroma bicolor) is a tree native to Central and South America. Mocambo is related to the better-known tree Theobroma cacao, the cocoa tree. Indigenous peoples of the region, including the Maya, honored this tree for its sweet, high-calorie fruit. The Maya were known for making their sacred cocoa drink. Mocambo was an important element in this.
Then, when the Spanish took over, they brought cocoa to Europe. This is where a true cocoa craze began. The fruits of Mocambo were not as popular as those of the cacao tree because they were considered by Westerners to be of inferior quality.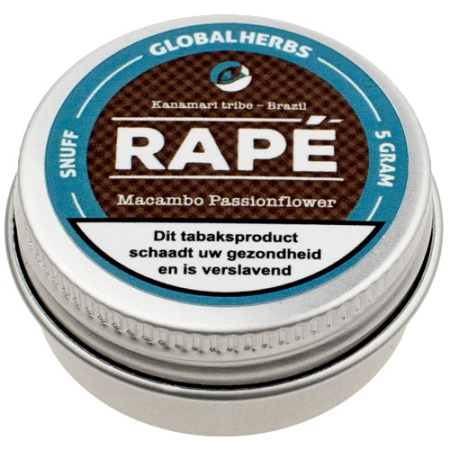 Passion flower is a better known plant, used as a natural sedative. The passion flower is a beautiful flower, a real feast for the eyes and also contains beneficial substances for calming our central nervous system. For people who suffer from anxiety attacks or poor sleep, passionflower can be an interesting medicine.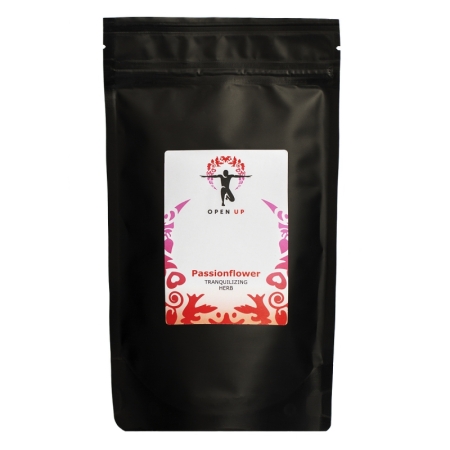 In addition, passionflower is also a milder MAO inhibitor. Read the text accompanying the Caapi vine carefully and check the list of substances, medications and foods that should be avoided in combination with an MAOI.
Try the rapé blend Mocambo Passion Flower if you are looking for a rapé strain to take at night, stimulating dreams and creating visions. This bled can also be used to enhance other psychedelic substances.
Cetico and Wild Mint Rapé: A fresh boost to your mind
Would you like to use rapé as a way to get a clear mind and start fresh on a new project, achieving a dream or letting go of old ballast? Then the Cetico-Wild Mint rapé is really for you.
The effect of this rapé blend is described as opening, grounding and uplifting.
This combination consists of two plants with stimulating and refreshing properties. The blend has a very fresh aroma, thanks to the wild mint.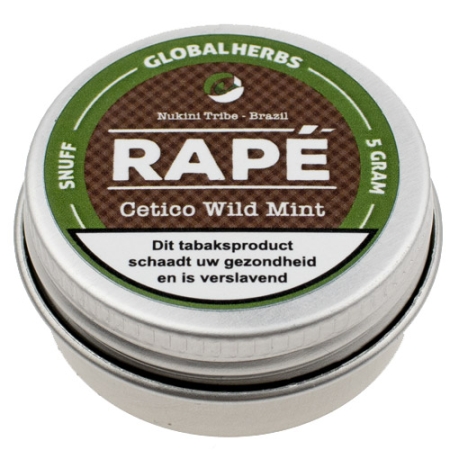 Rapé Tsunu: Powerful rapé from the Yawanawa tribe
One of the best known and most potent rapé blends is Tsunu, also called Tsunu Forte. This rapé is widely used by healers during a ceremony, for example with Kambo or Ayahuasca. Tsunu rapé is made from the Tsunu tree. This species is known for its medicinal properties. This rapé is therefore very suitable for people suffering from an illness and looking for healing.
Tsunu rapé is known for its strong purifying properties and repelling negative energy. During a ceremony, this rapé provides grounding, focus and purification.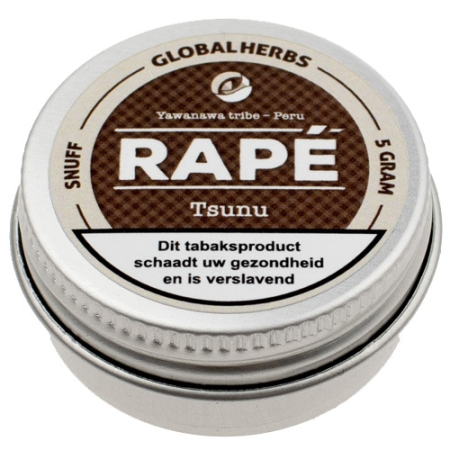 The Yawanawa tribe native to the Amazon jungle in South America considers the Tsunu tree sacred. The Tsunu tree (Platycyamus regnelli) grows naturally in the Amazon forest and contains several beneficial properties.
Once there was a shaman in the Acre State in Brazil. He compiled the Tsunu rapé and since then this rapé has been a base in making blends. The ash from the Tsunu tree is also often added as an ingredient to other blends.
Tsunu rapé is a strain that enters very easily through the nose. This can produce a powerful effect.
Check Sirius Smartshop for the entire range of rapé blends
In this blog, I will take a closer look at some rapé blends. However, many other rapé blends can be found in our smartshop. Dive into our online shop and discover what types of rapé we sell.
All rapé blends are from the Globalherbs brand. They are known for high quality rapé and makes it possible to try many different types of rapé and apply them in our lives.
How much rapé do you take per person?
The proper dosage of rapé is often determined by the shaman, during a ceremony. the shaman will give you the dosage that suits you. When working with rapé alone, or with someone else, it is important to keep the dosage low.
Start with about the size of a small pea per nostril. Read this blog to learn how to properly administer rapé to yourself and others.
Do you have experience with rapé, or other products for sale at Sirius? Write a Review!
We are always open to feedback from our customers. Therefore, we place great value in open and transparent communication between customer and seller. We keep our webshop as accessible as possible for people from all over Europe. If you have a question or comment, don't hesitate to contact us.
And if you have a moment, it would be very valuable for us if you would post a review. Thanks in advance!
Did you enjoy reading this article and do you like to write yourself? We are always looking for people who share our passion for natural products, who can also translate this into great texts. And we have an interesting reward for this. View all information for writers.
View all blog items
Also interesting
Read these too