In this blog item
In this blog item
CBD products: what is CBD actually good for?
Jacob Hooy: delicious tea blends with herbs and CBD
Hemp-Kamomile-Ginger-Valerian Tea
Hemp Turmeric Tea
Hemp-Ginger-Peppermint Tea
Dutch Harvest: CBD tea with beneficial effects
Dutch Harvest CBD Tea Simply Hemp
Hemp Chai: delicious CBD tea with Chai flavor
Hemp & Herbs: spicy hemp tea
Turmeric and CBD tea: a golden combination against bloating
What other CBD products are out there besides CBD tea?
The tastiest CBD Tea: relaxing effects of hemp tea
Reading time: 7 minutes
Posted: 20-09-2022
Relaxing in the evening with a delicious CBD tea is a healthy way to release stress and get ready for a good night's sleep. At Sirius Smartshop you can find all kinds of hemp teas. Choose a tea with relaxing properties and be surprised by the different flavors. In this blog I give an overview of the different teas with CBD.
CBD products: what is CBD actually good for?
By now, more and more people know that CBD does not make you stoned or high. Thanks to the sharing of knowledge, scientific research on CBD, interesting conversations with people and an increasingly wider audience in our store, it is clear that CBD is starting to take hold.
This is good news, of course, because it means more openness to health products that come straight from nature and have no synthetic side effects.
CBD can provide a variety of health benefits, listed below. Because the government does not allow us to make health claims about CBD, all the benefits are listed in such a way that no claims are made, but the reader still gets a good idea of the possible benefits.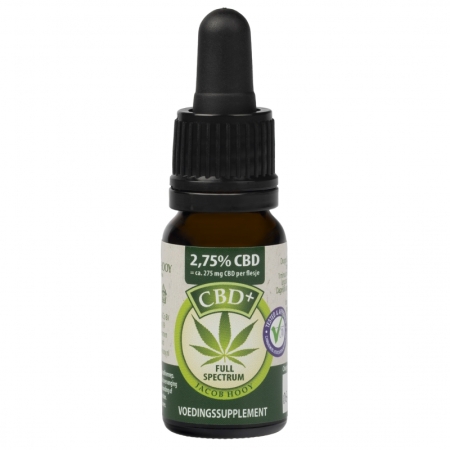 CBD can help with and alleviate a variety of pain conditions. Think joint pain, headaches, stomach aches, etc..
CBD is used as a way to inhibit inflammation. CBD can help the body suffer less from inflammation.
CBD can be employed to improve mood. For example, CBD is used as an aid against depression and anxiety.
In serious conditions such as cancer, CBD can play a very useful role. For example, the side effects of chemotherapy, including nausea, can be countered by CBD.
CBD can help with sleep disorders and insomnia. CBD can have a calming effect on the central nervous system and calm the body.
Jacob Hooy: delicious tea blends with herbs and CBD
If there is one brand that deserves to be in the spotlight, it is Jacob Hooy. This Dutch company has been producing the highest quality products based on herbs and spices for centuries.
Jacob Hooy stands for quality and sells products that are 100% natural. Jacob Hooy CBD products are also among the top quality. Below is a list of the different teas with CBD from Jacob Hooy.
Hemp-Kamomile-Ginger-Valerian Tea
A tea ideally suited for sleeping through. This blend of various relaxing ingredients makes for the perfect sleeping tea.
Hemp provides a good dose of CBD, short for cannabidiol. This little substance acts on an important system in our body that provides balance. The endocannabinoid system gives our bodies the rest to find a regular sleep rhythm, stabilize our eating patterns and regulate emotions.
When this system is out of balance, we are easily overstimulated, sleep poorly and have little regularity in what we put in our mouths. CBD is one way to create more peace in our bodies.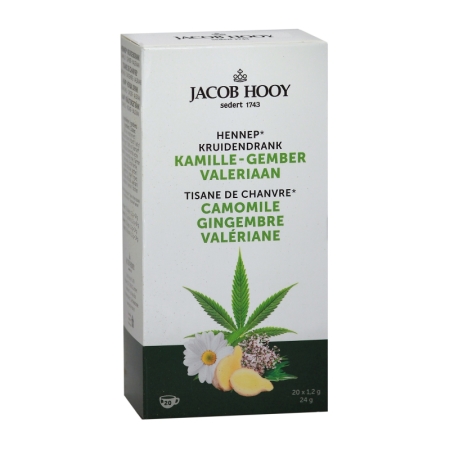 The wonderfully fragrant chamomile plant provides an aromatic effect and an extra relaxing tea blend. Chamomile has been known since time immemorial as an aromatic and relaxing plant used for calming the body and mind.
Ginger: a spicy ingredient of this tea especially meant to detoxify the body. Ginger has a fiery quality and ensures that fatigue is removed and the body is re-energized.
Valerian: At Sirius Smartshop it is also possible to buy pure Valerian in the form of the dried root. Valerian has a very relaxing effect and ensures that sleeping problems and stress are eliminated.
Hemp Turmeric Tea
A healthy, detoxifying tea for any time of the day is the Jacob Hooy Hemp Turmeric Tea. Turmeric contains a number of interesting ingredients including the substance curcumin.
Recent scientific research indicates that these substances from turmeric have a beneficial effect and may possibly help avoid or delay serious diseases, including cancer. A health drink to treat your body to.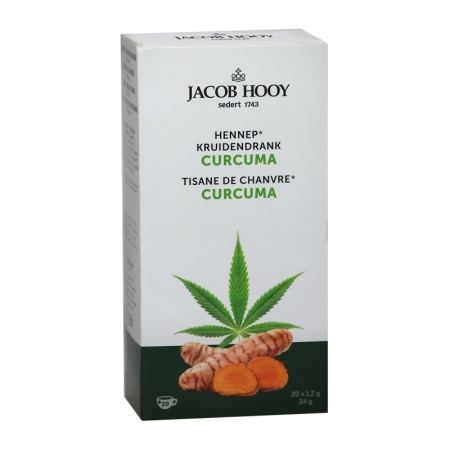 Hemp-Ginger-Peppermint Tea
An alternative to the above tea blends is hemp combined with ginger and peppermint. This is the perfect tea to drink after a meal.
Both ginger and peppermint have a detoxifying effect. Ideal for resting your stomach quickly after a meal and facilitating the digestive process.
Dutch Harvest: CBD tea with beneficial effects
Organic hemp tea from the Dutch Harvest brand is known as delicious CBD tea from Dutch soil.
Their vision: to produce sustainable and local tea using only high quality natural ingredients. In addition, Dutch Harvest values the dissemination of knowledge about the beneficial properties of the hemp plant.
Hemp is still too often associated with marijuana, while the plant is so versatile and is also used for many other applications. Dutch Harvest emerged as a company to set an example and use the hemp plant and its many beneficial compounds, including CBD, as a delicious and healthy product in the form of CBD tea.
Dutch Harvest CBD Tea Simply Hemp
Want to keep it simple? Then go for pure CBD tea made from Dutch Harvest hemp. All of Dutch Harvest's CBD teas are certified organic. If you want to support a green business, be sure to choose a Simply Hemp tea with CBD.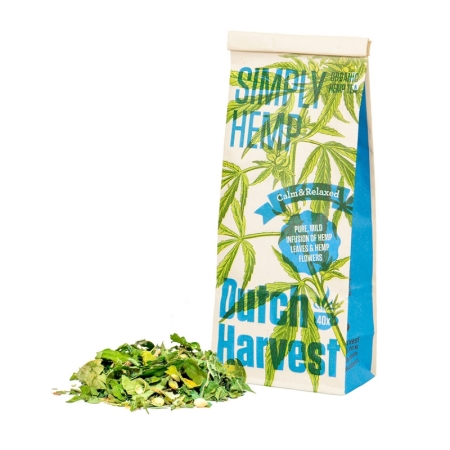 Simply Hemp is loose tea consisting of leaf, flower and seed. This gives you a rich yet mild taste of hemp. CBD Tea can be drunk at any time of the day and gives a relaxing effect. Very good for people who suffer from a lot of stress.
Hemp Chai: delicious CBD tea with Chai flavor
A very tasty and versatile tea is Dutch Harvest's Hemp Chai tea.
Chai tea has its origins in Ayurvedic medicine and is well known among tea lovers. 'Chai' means 'tea' and has been considered a beneficial and healthy beverage for centuries in Asia.
Hemp Chai has a slightly spicy and slightly sweet aroma with a full, spicy flavor. This is thanks to the delicious blend of different ingredients, including cinnamon, ginger, cardamom, fennel seeds and, of course, hemp.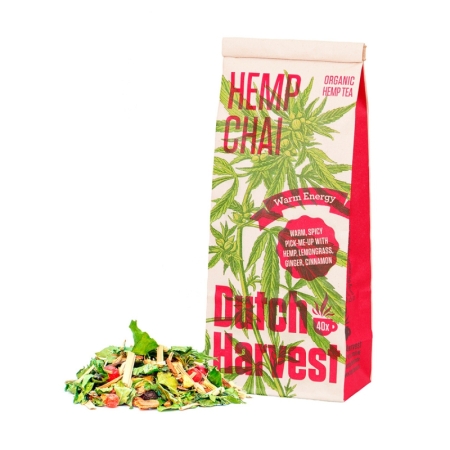 Take a break during your day and enjoy this delicious CBD-rich tea.
Hemp & Herbs: spicy hemp tea
Another tea that is definitely worth a try is Dutch Harvest's Hemp & Herbs hemp tea. If you like herbal teas, this is definitely for you. This CBD tea contains peppermint, lime blossom, chamomile, ginger and marigold.
In terms of taste, the tea is pungent and slightly spicy due to the ginger. Thanks to the other herbs, the tea also has a mild side and provides a well-balanced taste.
An ideal tea for a tea party with yourself and/or loved one(s).
Turmeric and CBD tea: a golden combination against bloating
As the fourth and final tea from the hemp tea company Dutch Harvest, I present Hemp and Turmeric, that is, hemp and turmeric. Turmeric has several well-known interesting properties, as described above.
Turmeric has a soothing effect on the intestinal system and can help relieve bloating. Hemp and turmeric together provide a calming effect on the stomach and help calm it down.
What other CBD products are out there besides CBD tea?
If you are interested in CBD but don't yet know in what way you want to use it, CBD tea is a very good introduction. If you really want to start using CBD as medicine for various conditions, such as joint pain, insomnia or feeling lethargic, then CBD drops or CBD capsules are interesting.
CBD products come in all shapes and sizes and all have their own benefits. Don't hesitate to browse through our range of CBD products and discover what CBD has to offer.
For additional information on CBD, visit our blog page, encyclopedia and, of course, the staff at Sirius. Send us an email, give us a call or drop by one of our physical smartshops in Maastricht and Roermond.
Did you enjoy reading this article and do you like to write yourself? We are always looking for people who share our passion for natural products, who can also translate this into great texts. And we have an interesting reward for this. View all information for writers.
View all blog items
Also interesting
Read these too