In this blog item
In this blog item
Every Magic Mushroom Trip is different
Magic Mushroom Trip Report: Galindoi
Tripping in the disco: hours of dancing and joy
Body & Mind energy: like low dose of 3-MMC
Magic Truffels combination with Laughing Gas
Are you curious about the new Magic Truffles for sale at Sirius?
Taking Psychedelics in the Club? Trip Report New Freshbox Truffle Strain: Galindoi
Reading time: 8 minutes
Posted: 30-12-2022
The Freshbox Truffle assortment recently got expanded by four new magic truffle strains: Mexicana, Tampanensis, Atlantis, and Galindoii. They are considered to be the original four magic truffle strains, which lay the foundation for all the other strains.
When originally developing the Freshbox brand, we at Sirius wanted to stand out from our competitors and decided not to offer the 'classic' four truffle strains but instead give them our own touch. This is the reason why until now, the strains Mexicana, Tampanensis, Atlantis, and Galindoii were not available at Sirius. If you want to check out all of the new and old magic truffles offered at Sirius, go to our magictruffle shop. This blog is a trip report about for 7.5 grams of Galindoi.
Every Magic Mushroom Trip is different
Disclaimer: Psychedelic trips are something personal and unique that will always be different from person to person. You cannot expect your trip to be a certain way only because you've heard a description from another person.
If you have never tried out a psychedelic before, but are interested in doing so, please read this blog about how to prepare for the first magic truffle trip. If you have any further questions, contact our customer service, we are always happy to help you!
Magic Mushroom Trip Report: Galindoi
Recently, I asked a good friend of mine to try out the new Freshbox Truffles. We at Sirius make sure that we have our products tested by experienced psychonauts, and then collect their trip reports to get an idea of the effects of our new products.
This friend of mine has a lot of experience with psilocybin and other related substances. Additionally, he is studying a pharmacology-related master track at a highly regarded university, which is why I considered him as a perfect subject to test our new truffles. In order to avoid biases and the placebo effect, neither of us knew which strain of our new freshbox truffles he received, this was only revealed to us later (spoiler alert: It was the Galindoi strain).
The following story was told by my friend to me, and I've also received a written report about his trip that he wrote the following day. In order for the story to be easier to read, I am going to take his perspective from now on.
Tripping in the disco: hours of dancing and joy
I was looking forward to take the new truffle strain together with some (sober) friends and some good music, which is why I decided to take them before going to a electronic music club. That night they were playing calm and melodic music, which I considered to be the perfect match for my intended trip. We planned to go to the club around midnight, so I had a good lunch and one soft beer 3-4 hours before.
At around 00:30, I took exactly 7.5 gramms of the truffles to be tested, chewed them well and swallowed them with water. The taste wasn't as bad as I was expecting from my previous experiences. 30 minutes later, I started to notice the first effects: A very mellow feeling ran over my body and put me into a nice and happy mindset.
For the next 30 minutes, the effects were increasing. I remember looking curiously at the lights and the decorations in the club, but I did not have strong visual or hallucinogenic effects. Still, it was very enjoyable to look at the things and people around me, and I had a good feeling about the onset of my trip.
It was around 01:30 were I started to reach the 'plateau' phase of the trip. This phase was really one of the most pleasurable experiences I had with truffles or psilocybin in general. I experienced slight visual deformations and shifts in my perceptions, visual and bodily vibrations that synchronized with the bass of the music, and I loved dancing to the music that I heard. Auditorily, the music sounded normal and I did not have any hallucinations on that sensory aspect.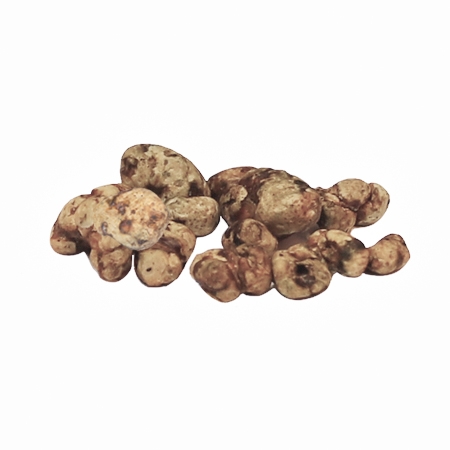 Body & Mind energy: like low dose of 3-MMC
The trip was primarily physical and mental: My body was extremely light and I could easily dance the whole night, which felt like the natural thing to do. I would almost compare it to low doses of a stimulant such as 3MMC, which is a experience I never had with truffles before.
Even though I had a long day, I was not tired at all and could keep on dancing, which I would consider the be the most unique effect of this truffle strain – in my previous magic truffle experiences, I got tired quickly and preferred to stay in bed or on the couch, but this time I was strongly energized.
Just as my body was full of energy, my mind was as well: I was chatty and deeply invested in the conversations I was having, with what felt like a more thoughtful and sage understanding of things. I knew that I was under the influence of the Galindoi truffles, but it almost did not feel like I took a psychedelic, I was just enjoying everything that I was doing.
Magic Truffels combination with Laughing Gas
At around 02:00 I received a balloon filled with laughing gas / nitrous oxide (those are sold in a lot of Dutch techno clubs). For taking it, I went out of the crowd into a more calm and relaxed space. I was slightly nervous because I felt somewhat disoriented when sitting down, but the visual effects made everything around me seem somewhat alive – as if my whole surrounding was moving and breathing. Because of this, I also realized I just need to breathe in order to calm down and shift towards a more calm state of mind. Then I managed to take the balloon easily and had a great dissociative experience in which my visual field was expanding enormously.
Disclaimer: We do not recommend to combine magic truffles with any other substances, whether legal or not. The combination you just read about (Galindoi magic truffles / psilocybin x laughing gas / nitrous oxide) was taken by an experienced psychonaut and should never be tried out by unexperienced beginner users.
I left the club around 4 and was still feeling some of the effects. Because of that, I sat outside together with my friends, with whom I shared great conversations. Afterwards, I went to my apartment, still feeling some of the stimulating effects I described previously.
Because of that, I made some music (I have a setup of electronic synthesizers etc. at home). I felt incredibly creative and was really enjoying my producing to the fullest. When listening to my recordings a few days later, I was surprised by how nice it actually was. At around 05:00 in the morning the effects of the magic truffles were laying off, so that I could lay in bed and fall asleep quite quickly. That night I slept really good, I also was dreaming quite a lot, but unfortunately could not recall the content of my dreams later.
I consider this experience with the Galindoi magic truffles to be the best experience I ever had with truffles or psilocybin. Some people would really recommend against taking them in a club, which I can understand, but as I have enough experience and know how to handle myself in a more 'stressed' environment, it was okay for me. However, beginner users or people that are more prone to being overwhelmed quickly should always take psychedelics at home or in nature.
Are you curious about the new Magic Truffles for sale at Sirius?
This trip report was received both as a written text and in interview form. After editing it for my blog, I asked my friend whether I accurately described his experience, which he confirmed. I have to say that this trip report really made me curious to try the Galindoi truffles myself.
However, I don't think that I am the right person to take a psychedelic in a club – I usually prefer to stay in the comfort of my own home or go to a calm, relaxed place in nature. But this is what I like so much about the psychedelic experience: It is different for everyone.

If this blog made you curious about trying the new Galindoi truffles, then check out our magictruffle shop were you can discretely order them. Besides Galindoi, we also added 3 other new freshbox strains to our sortiment, Atlantis, Mexicana and Tampanensis
If you would like to receive more information, or have any further questions, you can always contact our customer service. If you prefer to have a face-to-face conversation and professional advice about psychedelic trips and magic truffles, you can visit one of our stores in Maastricht or Roermond.
Did you enjoy reading this article and do you like to write yourself? We are always looking for people who share our passion for natural products, who can also translate this into great texts. And we have an interesting reward for this. View all information for writers.
View all blog items
Also interesting
Read these too