In this blog item
In this blog item
From prehistoric cannabis to new designer drugs
A substance is not good or bad
Sirius sells 100% legal psychedelics, natural antidepressants and smart drugs
Who was Alexander Shulgin?
Biodegradable pesticide
Inner journey with mescaline
Experimenting with illegal drugs
The discovery of XTC
Tripping for science
Designer drugs like 3-MMC
Meet the Godfather of MDMA: Alexander Shulgin
Reading time: 8 minutes
Posted: 08-07-2021
Thanks in part to the Internet, I've learned that there are many more sides to one story. As an adolescent, a door opened for me when I realized history lessons at school actually have a very limited view of the world and often only tell one kind of historical events. Also, there are several interesting topics that were not covered at all. History on drugs was a non-existent topic. But: knowledge is power! Time to learn more about psychonaut Alexander Shulgin.
Do you ever take a pill? Although still taboo in most countries, there seems to be more openness in the debate about drugs. Whereas many of our grandparents had never heard of (synthetic) drugs in their younger years, a lot of information has been made available in recent decades. As a result, different walks of life in society know about these substances.
From prehistoric cannabis to new designer drugs
Drugs are all around us, for as long as humans have existed. For thousands of years, certain substances from nature have been used as stimulants and medicine. One example is THC, the psychoactive substance found in the cannabis plant. Archaeologists have found evidence of cannabis being used as a religious remedy in Israel. Some 1,000 years before Christ, the cannabis plant was already used as a medicine and was a way to connect with the divine.
One of the oldest pieces of evidence of the use of cannabis dates back 4,000 years before Christ. In China, archaeologists have discovered imprints of the hemp plant in ancient ceramic jars. At that time people probably looked at drugs in a totally different way than they do now.
In our current society (synthetic) drugs are flying around our ears. Thanks to science and the many discoveries made in recent years, it is possible for humans to synthesize all kinds of substances. These can be used for medicines and for recreational purposes. There are also plenty of substances that are life-threatening and prone to abuse.
A substance is not good or bad
Usually people think in terms of good or bad, when it comes to psychoactive substances. Drugs are "bad" for you. This is a bit strange, because a substance is a substance and does not itself have any evil in it. It is we who can use it in constructive or harmful ways. Unfortunately, many (synthetic) substances have a reputation for destroying lives because the substance is being abused. Take for example the opioid crisis, both in the US and in Europe. Misguided policies and inadequate dissemination of information have caused many patients to become addicted to their drug.
Sirius sells 100% legal psychedelics, natural antidepressants and smart drugs
Although we cannot ignore the fact that illegal (synthetic) drugs are used all around us and are very popular, there are still plenty of alternatives that are legal, natural and fun. Take a look at the Sirius range of Magic Mushrooms and find mind-blowing capsules, aphrodisiacs and high-energy smart drugs. At Sirius you have come to the right place for a wide range of legal and safe alternatives to most illegal party drugs.
If you do decide to take (hard) drugs, be safe and test your drugs. You can do this with the help of EZ Test kits.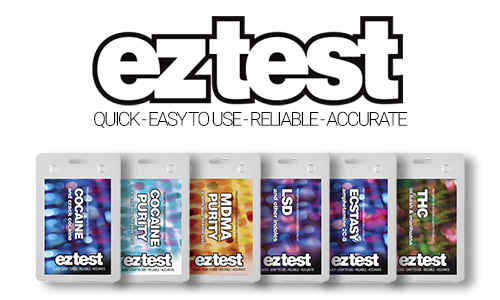 For example, you can have MDMA tested for purity. But before you decide to get your drugs tested, it is interesting to know where they actually come from. Read more below!
Who was Alexander Shulgin?
Alexander Shulgin was born in 1925 in California, United States. He began studying organic chemistry but did not finish it because he chose to join the army.
Because of an infection on his thumb, he ended up in the infirmary. Before surgery, he was given a glass of orange juice by a nurse with a sedative. It did not take long for him to fall asleep. Afterwards it turned out that it was not a sedative medicine but only sugar. At that point he became mesmerized by the concept of "placebo effect".
Biodegradable pesticide
When he returned from the army, he completed his studies and obtained his PhD in biochemistry. In the 1950s, he conducted research in psychiatry and pharmacology. After this he started working at the Dow Chemical Company. At that time Shulgin was not able to do much independent research. At the company he developed a biodegradable pesticide, Zectran. This product was of great value and in exchange for the patent, the company gave Shulgin great freedom to do research on whatever he found interesting. When asked, he created and patented drugs for Dow. Other findings and research he published in journals such as Nature. At one point, the company asked him to stop mentioning their name in publications.
Inner journey with mescaline
During this time he had a number of experiences with psychedelics that changed his view of the world forever. His vision of the future and research took a different turn with an experience with mescaline, the active ingredient in San Pedro and Peyote, among others.
Shulgin says he learned through these journeys with psychedelics that the entire universe takes place within our minds. Psychedelics are able to expose this reality. As he puts it himself, "it may be that we refuse to see this reality or find no access to it. Certain chemicals can act as a catalyst."
He left Dow Chemical Company to pursue his own dreams. He created The Farm, an established laboratory on his own property. He became a private consultant and began teaching at local universities. He also worked with the DEA (Drug Enforcement Administration) and organized meetings where knowledge could be shared regarding drugs.
Experimenting with illegal drugs
Shulgin received permission from the DEA to conduct studies with illegal drugs in the name of science. This allowed him to make any illegal psychoactive substance himself and was also allowed to possess it.
The discovery of XTC
In the 1960s, Shulgin had about 4,000 psychedelic experiences. Together with a group of friends, he made it his quest to discover as many mind-altering substances as possible. He then manufactured them into powders and pills. In total he tested over 200 different substances.
He also introduced the substance MDMA. This earned him the nickname the 'Godfather of XTC'. Thanks to him, this substance ended up being used in psychotherapy and became a popular drug in nightlife.
MDMA was first synthesized in 1912 by the German company Merck. For years the drug remained untouched and people had no idea of its powerful effects.
In the 1970s, Shulgin discovered a way to synthesize MDMA. The empathy-enhancing effects of MDMA became known to certain psychotherapists. Shulgin introduced the drug to Leo Zeff, a psychologist who began giving it in small doses to his patients to facilitate therapy. The therapeutic value of MDMA proved to be very high. Patients were better able to access their feelings and speak about them with more openness.
Tripping for science
Soon there were several psychotherapists who, thanks to Shulgin, came into contact with MDMA and held therapy sessions with it. The chemist himself selected a small group of friends with whom he synthesized and tested various other drugs. He also met Ann, whom he later married.
It wasn't long before the DEA put a stop to Shulgin's practices. At one point, his laboratory was raided and his work samples confiscated. The organization fined the chemist $25,000 for being in possession of anonymous illegal samples, which the chemist had received for quality tests.
According to the DEA, "Copies of his books were recovered from rolled-up drug labs. Police found them there and considered them dangerous cookbooks for making drugs."
Shulgin is praised by many for his groundbreaking research and massive amounts of collected data. He has synthesized nearly 200 new substances including stimulants, antidepressants, empathogens (such as MDMA), aphrodisiacs and numerous other psychoactive substances that alter consciousness. His repertoire is a tremendous contribution to psychedelic research.
As Shulgin puts it at the beginning of the documentary about his life Dirty Pictures, he especially liked substances that enhance the sense of belonging and communication. MDMA is a very social drug and created a strong foundation for rave culture. The drug encouraged ravers to transcend their individual perceptions and merge with the rest of the environment.
Until his peaceful death, at the age of 88, Shulgin continued to explore new psychoactive substances, thus broadening people's view of their possibilities and dangers. His wife Ann, reported his death in June 2014.
Designer drugs like 3-MMC
For a long time, Shulgin had managed to conduct his work legally. This was mainly due to the fact that he worked mainly with new substances, which were thus not yet classified by the DEA.
Today, countless chemical substances are still being developed that mimic existing, illegal drugs as closely as possible in terms of effect and structure. These new substances can be (semi) legally manufactured and sold because they have not yet been declared illegal. Chemists and policy makers are in a race together. The game can go on endlessly. One designer drug that made a big fuss this year was 3-MMC. Check out Sirius' encyclopedia to learn more about these drugs.
Blog photo: Lightweaver - Alex Grey
Did you enjoy reading this article and do you like to write yourself? We are always looking for people who share our passion for natural products, who can also translate this into great texts. And we have an interesting reward for this. View all information for writers.
View all blog items
Also interesting
Read these too