In this blog item
In this blog item
Entourage effect
Performance Oil by and for athletes
ImmuneEnergy capsules
Dragons Balm muscle balm
CBD is multi-purpose
What beneficial substances does hemp contain in the highest dosage?
Raw cannabinoids and their beneficial effects
CAN certification
New Jacob Hooy Performance CBD products for sale at Sirius (temporarily at 25% discount)
Reading time: 8 minutes
Posted: 14-06-2021
The range of CBD products is constantly growing. Sirius selects for you the best quality of different brands. Jacob Hooy has been in the Netherlands for a very long time, almost 300 years! This company specializes in high quality herbal products which can be used as natural medicine. Jacob Hooy is also within homeopathy a true concept. Sirius has now introduced the new CBD Performance line of Jacob Hooy with temporarily very competitive prices at 25% discount (until the 23rd of June).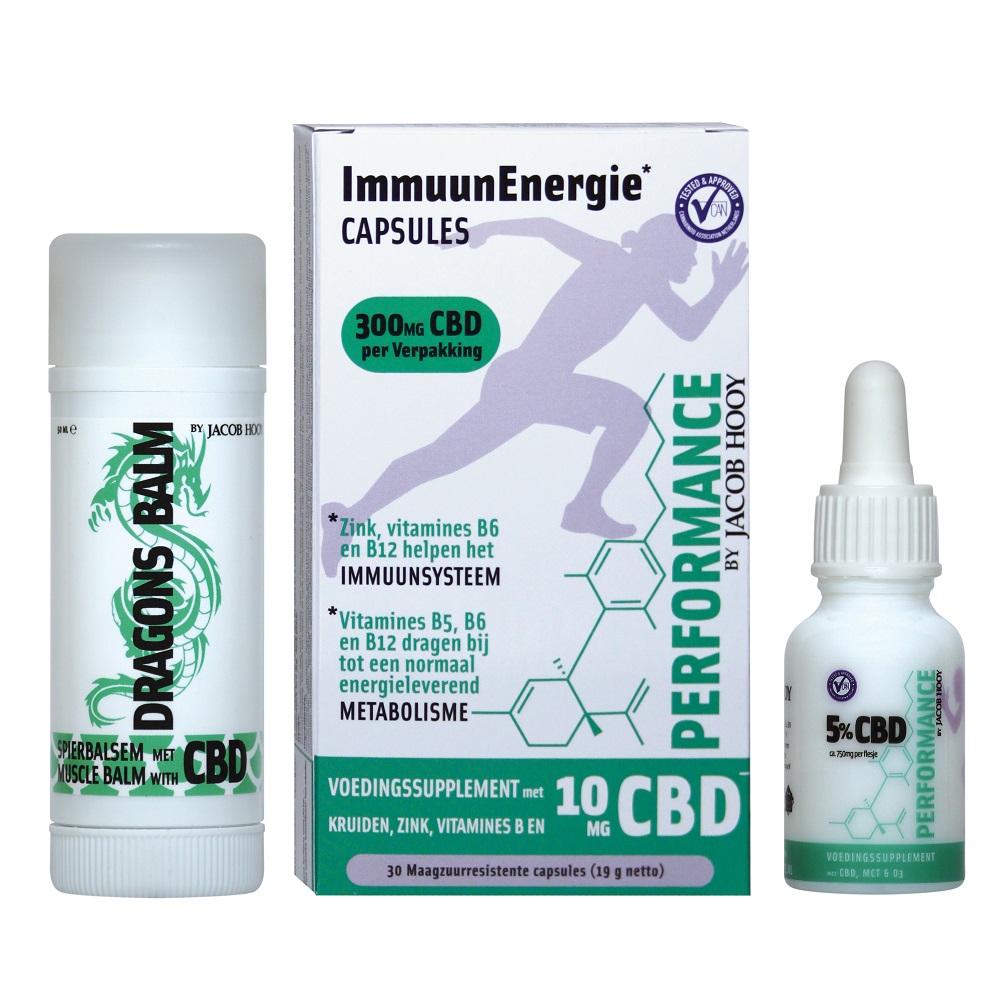 Entourage effect
Did you know that besides CBD, the hemp plant also contains other beneficial substances, each with their own unique effect? For example, hemp contains the cannabinoids CBG, CBD-V, CBN and CBC. But there are many more! The exact number is difficult to determine, but we are talking about more than a hundred different cannabinoids found in Cannabis sativa L.
CBG: can help with autoimmune diseases
CBD-V: can be used in case of epileptic seizures
CBN: promotes better sleep
CBC: reduction of pain and inflammation
Jacob Hooy is aware that products with different cannabinoids can provide an interesting and extra powerful effect. The so-called entourage effect means that the various beneficial substances in the cannabis plant together can provide a certain effect. Instead of isolating substances, the original profile is retained. You can think of this as a natural form, just as you can find it in nature.
There are also numerous pure types of CBD oil, where the other cannabinoids have been carefully chosen to be separated from cannabidiol. There are plenty of experience stories of users and patients giving a positive reaction to just CBD, where for example a stronger concentration can be chosen. An example is Cibiday 25% CBD oil.
Performance Oil by and for athletes
In the new line of Jacob Hooy this Performance Oil fits perfectly. This product is composed in cooperation with top performers in sports and in business.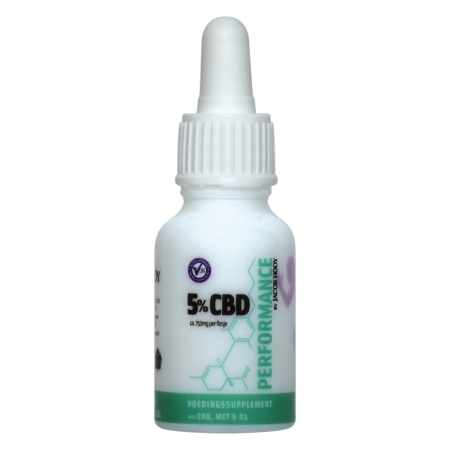 This oil contains besides CBD also C8 and C10 MCT (Medium Chain Triglyceride). Especially for athletes and people who exercise a lot, this oil can have a beneficial effect on the body. It is recommended by several bodybuilders and performance athletes. In certain studies it was shown that MCT has a beneficial effect on the burning of fat and thus helps to burn excess calories. MCT oil is extracted from rich food products such as coconut oil.
MCT stimulates the body to go into ketosis. This means that the body draws on more fat reserves and gets energy from them. In this way, you can perform better and release stored energy.
Make exercise a priority
We live in an automated world, where we basically don't need to move much, if at all. Our food is made "for" us; we no longer have to grow vegetables in the garden or collect nuts and fruit.
We can also travel from A to B without having to burn extra fat. Yet it is very important to stay active in your daily life and if possible not to sit for hours at a time.
Choose to transform your work table or desk into a place where you can work standing up. If you have the opportunity to go somewhere on foot or by bicycle, choose this instead of the convenience of the car, bus or train.
ImmuneEnergy capsules
Jacob Hooy has expanded its range with these capsules. They are based on the healing potential of cannabidiol, supplemented with ingredients that give energy and extra support to the immune system.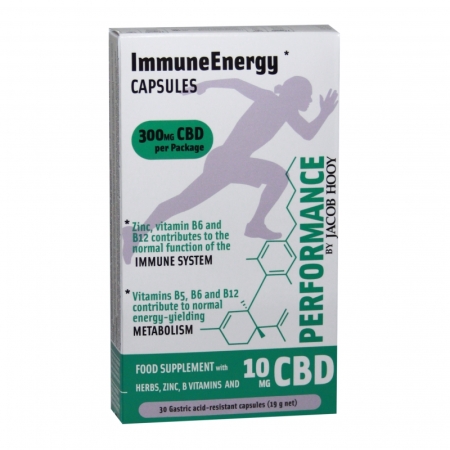 The package contains 30 capsules, based on a high quality CBD oil that stimulates the entourage effect. This is because the oil contains numerous other beneficial substances in addition to cannabidiol. This is also called full spectrum oil.
In addition to CBD, the capsules contain a strong and pure Green Tea Extract. Also added is Ginseng, the root known for its immune-boosting properties.
Green Tea contains a source of natural caffeine and provides long-lasting and sustainable energy. Furthermore, green tea extract is shown to have numerous health benefits. Green tea contains powerful antioxidants that protect the body from deterioration and disease. Other effects of green tea:
Helps the body excrete toxins
Protects tissue and organs (including bones, joints and skin)
Has an anti-inflammatory effect
Protects the body from allergies
Helps the body burn fat and be at an optimal weight
Reduces psychological and physical stress
For many people, the source of their ailments lies in problems with the resistance, or immune system. This system can become overloaded for many reasons. Stress, anxiety and depression are a major risk. Poor diet, drinking too much alcohol and little sleep also contribute to being more susceptible to disease and having less energy. Eat as healthy and varied as possible to avoid deficiencies of important nutrients.
The capsules are further supplemented with various B vitamins, including vitamin B12. Many people have a shortage of this, because it can be found in few foods. This vitamin plays an important role in having a properly functioning immune system.
Dragons Balm muscle balm
A unique recipe, combining the best working ingredients for muscle care with CBD. A soothing, calming balm that relieves pain and helps to recover after a hard workout or injury.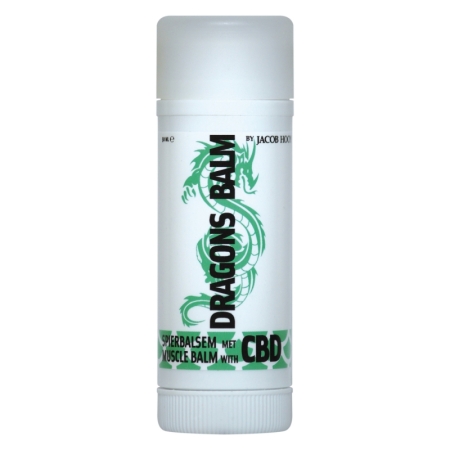 The balm can be used before and after exercise. Apply a thin layer to the desired location and massage well. Do this preferably several times a day.
CBD is multi-purpose
Nowadays we live in a world where CBD is gaining more and more fame and popularity. It is a substance with great healing potential and the non-psychoactive sister of THC. A separate blog can be dedicated about tetrahydrocannabinol, to mention all its medicinal and other interesting properties. Of course, for several users CBD is many times more interesting, precisely because of its calming effect, without psychedelic effects.
Even animals can benefit from CBD. Therefore, it can be an effective medicine for, for example, dogs with painful muscles, anxiety, depression, aging problems and much more. For example, when administering cannabidiol to a dog, start with a low dose and build it up gradually. A dog cannot communicate like a human does. It takes attention and probably extra time to discover if the dosage is sufficient for your pet.
Also interesting (blog): "CBD for pets".
What beneficial substances does hemp contain in the highest dosage?
Hemp (Cannabis sativa) contains several interesting constituents. In its "raw" form (i.e. without heating), cannabis contains the highest concentrations of two substances THCA and CBDA. As you can see, an 'A' is added to the well-known cannabinoids THC and CBD. This letter stands for 'acid' or their raw form that has not been heated. Unheated, these substances do not give their effects that recreational and medicinal users are usually looking for. THC, the psychedelic substance from cannabis, becomes active only when smoked or vaporized using a vaporizer, for example. When a user eats "raw" cannabis, he will usually not get stoned or high.
Raw cannabinoids and their beneficial effects
Cannabinoids that are not heated and therefore consumed in their raw, original state are also labeled with an 'A'. This stands for 'acid'. The raw form of these substances does not give the same intense effect as substances from cannabis that are heated, for example by smoking a joint or heating cannabis buds in an oven. This process is also called decarboxylation. It is a chemical process that is basically not that complicated to understand. It means that cannabis (weed tops for example) are first heated within a certain temperature. The heating changes the composition of the active ingredients. The 'raw' form is heated and gets a different structure. As a result, the effect is also different. Hence, you can't normally get stoned or high from eating raw cannabis. However, heating cannabis provides a (possibly) strong psychoactive effect and can also be used as a powerful medicine.
CAN certification
The products of the Performance line of Jacob Hooy have received the CAN quality mark. The Cannabinoid Association Netherlands strictly monitors products within the Netherlands that contain cannabinoids such as CBD. This guarantees the high quality and assures you as a buyer of the legitimacy of the claims made by the producer. The quality mark for CBD products is controlled and issued by a committed team of advisors with scientific expertise.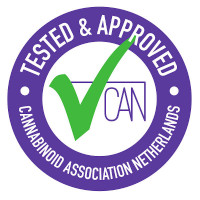 The CAN is an advisor to the Dutch government and deals with matters related to cannabinoid policy.
Sirius is also a member of the CAN and shares the goal of spreading correct information about the use and content of CBD products, among other things.
Did you enjoy reading this article and do you like to write yourself? We are always looking for people who share our passion for natural products, who can also translate this into great texts. And we have an interesting reward for this. View all information for writers.
View all blog items
Also interesting
Read these too