In this blog item
In this blog item
History and traditional use of guarana
High caffeine content and lasting energy
Delicious recipes with guarana for energy!
Warning
What is guarana
Reading time: 8 minutes
Posted: 31-03-2021
Do you ever drink coffee? No? Then you belong to that very small minority that feels left out on many social occasions. (If you don't drink tea either you really have a problem). In this blog I want to talk about a much lesser known caffeine-rich remedy, at least here in the West. In South America, guarana has been used for centuries as a natural alternative to a cup of coffee.
History and traditional use of guarana
The use of guarana finds its origin in Brazil. The plant grows in the southern part of the Amazon basin. The indigenous people of this area have used guarana for centuries as a natural energy supplement. It is known to the South American Indians as a means of improving physical and mental performance. Traveling long distances, or solving a complicated case becomes easier after a serving of guarana.
It is also said that guarana helps the body regain strength and helps to purify after an intense workout. Also, guarana is a diuretic.
High caffeine content and lasting energy
Guarana contains a higher caffeine content than coffee. In fact it is twice as high! Not for nothing is guarana also labeled as "nature's rocket fuel". In Brazil, guarana is popular and known for its properties. In terms of effect, guarana gives an energy that slowly exposes itself and thus provides a long lasting effect. The so-called "crash" that you can experience with coffee, is usually absent with guarana.
Guarana gives a clear, mental boost, an energetic feeling for the body that lasts for a long time. The caffeine in guarana is contained in the fibers of the seed, so the body needs more time to access it.
Today guarana is a common ingredient in Brazilian soft drinks. About 25% of all soft drinks from Brazil contain guarana.
Guarana is a climbing plant and owes its botanical name to the German medical botanist C.F. Paullini. The plant contains berries containing the valuable seeds. The seeds are peeled, washed and then roasted for about 6 hours. They are then placed in sacks and shaken vigorously so that the enveloping membrane falls off. They are then ground into a fine powder and mixed with water to form a kind of dough. Cylindrical shapes are rolled out of this dough. These are dried in the sun, or over a low fire. The end result is hard pieces, which you can easily break into uneven parts. The smell is mild and the taste has a bitterness that is somewhat reminiscent of cocoa and also has a similar chocolate milk color.
Traditionally, drinks are made with these hard pieces of guarana. Half a cube is grated through a mixture of sugar and water. This is drunk as a kind of tea and seen by many Brazilians as a tonic for general health and as a very refreshing thirst quencher.
The favorite drink of the Orinoco Indians is also based on guarana. The seeds are mixed with cassava and water. Cassava is a nutritious root vegetable and has been cultivated in South America for thousands of years.
This mixture is then left alone for a time, so it will ferment, until the result is turned into the beloved drink, which is on the verge of spoiled.
Delicious recipes with guarana for energy!
Such a traditional fermented Indian drink sounds fun and nice, but for this blog I share tasty recipes that are a bit more accessible.
1. Brazilian milkshake with guarana
My father is from Brazil and used to make a delicious creamy milkshake for me as a child, which he had learned from his parents. Super easy to make and super tasty! For an energy boost I added guarana this time.
Ingredients (for two glasses)
Put all ingredients in a blender and mix until you have a creamy and smooth end result. Super tasty for breakfast!
You can also use it as a base for a smoothie bowl and enrich it with toppings like fresh fruit, almonds, hemp seeds and goji berries.
2. Hatcha Latte with Turmeric and Guarana
Replace your cup of coffee with this delicious and original drink, based on hemp and turmeric. Medihemp developed Hatcha Latte, inspired by matcha, but with hemp, instead of green tea. It is a unique recipe that I really like, because I love warming drinks that are also a bit like a dessert, thanks to the delicious and full flavor. A cup of Hatcha Latte is a great snack at work or at home, when you're in the mood for something sweet. Thanks to the added guarana, it gives you an instant caffeine boost so you can get going again.
Hatcha Latte with turmeric, is one of the three varieties you can choose from. Turmeric is a spice widely used in Ayurvedic cuisine and is known for its warming and energy-rich properties. It is also highly regarded as a healer within this traditional medicine, especially for the heart and liver. Turmeric has a slightly spicy flavor.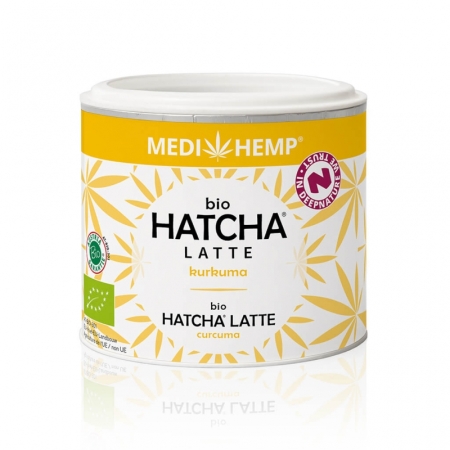 Besides turmeric, you also have the choice between Hatcha Latte Pure (based on pure hemp) and Hatcha Latte Raspberry/Blackberry, if you like a touch of forest fruit.
All Hatcha Latte products have the Organic label and are made with high quality ingredients. The young company Medihemp comes from Austria and gives great attention to beautiful products obtained in a sustainable way. Their fields with hemp plants are left alone as much as possible and of course not sprayed or treated with pesticides, fertilizers or herbicides.
Ingredients
Heat the milk in a saucepan. Add the Hatcha Latte and guarana and stir!
3. Hot chocolate with guarana
Did you know that chocolate contains a substance that is very similar in structure to caffeine? Eating (dark) chocolate gives the body an extra portion of energy. The substance theobromine is responsible for this and does well as an aid to better focus. So eating a piece of chocolate to improve your work performance is totally responsible!
To give yourself an extra boost and treat yourself to a super tasty drink, try this hot cocoa drink, with added guarana. After this, it will possibly get a permanent place in your list of favorite treats.
Ingredients
Heat the milk in a pan. When it is heated, pour a small amount into your cup. Add the cacao and guarana and stir well, so you get a mixture without lumps. Next pour in the rest of the milk and stir well. If you like, this cocoa drink can be sweetened with, for example, honey, sugar or agave syrup.
For a tasty and healthy cocoa drink with extra protein you can choose Medihemp Protein Cocoa. Especially if you are an athlete or have an active life, adding some extra protein in your diet is a smart idea. The taste of this drink is a delicious combination of chocolate and the nutty flavor of hemp seeds.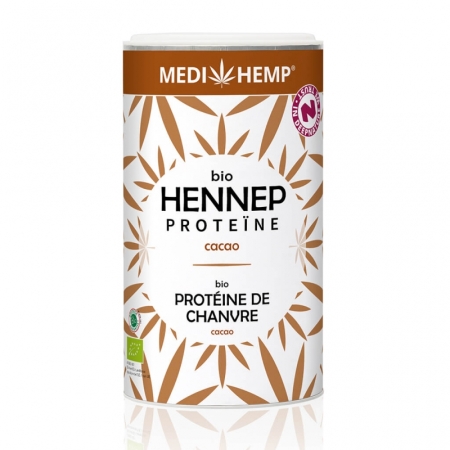 4. Brazilian cocoa drink with guarana
For a twist, you can also opt for this warming cocoa drink, which requires a little more preparation time, but is definitely worth making!
Ingredients
In a saucepan, put the water, cacao nibs, cinnamon and guarana. Let it simmer for about thirty minutes on low heat. Remove the pan from the heat and strain the drink through a sieve. Put the drink back into the pan and stir in the cayenne, vanilla powder and milk over a very low heat. Add the honey until dissolved and pour.
Definitely try these guarana recipes if you like an original twist to your daily diet. Treat your friends or family to one of these drinks to present them with a unique taste experience they will not soon forget.
Warning
Due to the high caffeine content, people with heart problems should be extra careful. Consult a doctor in case of doubt.
Are you going to try one or more of these recipes? Tag @siriussmartshops on social media!
Did you enjoy reading this article and do you like to write yourself? We are always looking for people who share our passion for natural products, who can also translate this into great texts. And we have an interesting reward for this. View all information for writers.
View all blog items
Also interesting
Read these too