In this blog item
In this blog item
Delicious Lion's Mane Cacao Power Balls for Mental Focus
The benefits of lion's mane
The recipe
Ingredients
Steps
Cordyceps Oatmeal Cakes: Power food for your body & good digestion
Ingredients
Step-by-step plan
Also read these blogs about medicinal mushrooms and their effects
Do you have questions about medicinal mushroom supplements or need advice?
Healthy snack recipes with Medicinal Mushrooms: energy through lion's mane and cordyceps
Reading time: 7 minutes
Posted: 27-12-2022
The older I get, the more I enjoy taking good care of myself. Perhaps a few years ago I would not have cultivated so much self-love, which now strongly motivates me to eat healthy, exercise, relax and embrace the wonder of this life as much as possible. One of the ways I take good care of myself is by incorporating medicinal mushrooms into my daily life.
Below you'll find some recipes with medicinal mushrooms such as lion's mane and cordyceps. At Sirius Smartshop, you can buy these mushrooms in the form of dietary supplements, which you can easily take every day. But there are also ways you can incorporate these products into a tasty and healthy recipe.
This way you can add variety to your daily habits, but also let others enjoy the beneficial effects of medicinal mushrooms in an indirect way. Because for some, the threshold may be a bit higher to get started with a medicinal mushroom supplement.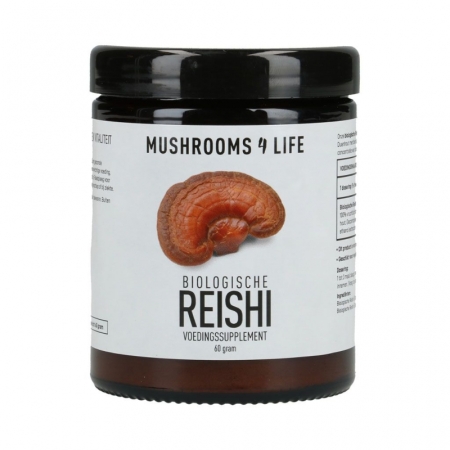 Delicious Lion's Mane Cacao Power Balls for Mental Focus
If you feel a bit groggy and drained in the middle of the day, it's often a sign that you lack energy. One of the ways you can get your energy levels back on point is by eating a healthy snack. Don't make the mistake that many make (every day) by reaching for unhealthy snacks with no nutritional value and packed with refined sugars and saturated fatty acids. This is only going to increase your dip, especially in the long run.
If you really want to take good care of yourself, develop a healthy diet. And that includes, of course, delicious snacks that consist of tasty and healthy ingredients and give your sustained energy.
These power balls contain lion's mane powder for extra mental focus and also a boost to your mood.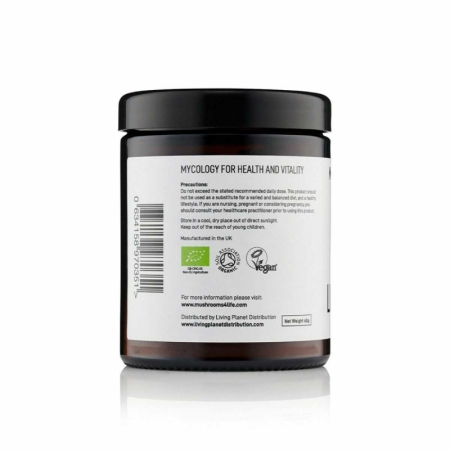 The benefits of lion's mane
Lion's mane (Hericium erinaceus), is a medicinal mushroom with a particularly beneficial effect on our brain. The mushroom protects the brain against signs of aging such as memory loss and can even repair damage by strengthening the connections between neurons.
But even with a healthy working brain, lion's mane is a good addition. Because even then you can experience the positive effects of lion's mane including: more focus, more mental energy, an improved state of mind. Also, lion's mane can help you think clearly, process information faster and better, develop better motor skills and become more creative.
These are all benefits attributed to the use of lion's mane, researched for thousands of years within Traditional Chinese Medicine (TCG), as well as by scientists and mycologist Paul Stamets.
Through scientific research, it is now clear what these positive effects on our brains have to do with.
It is done in part by something called NGF (Nerve Growth Factor). Lion's mane stimulates the growth of myelin sheaths.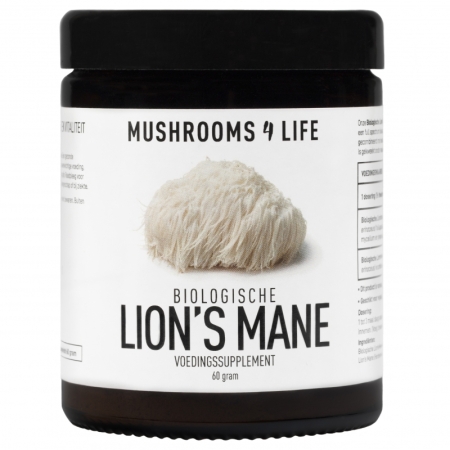 The recipe
With this recipe, you will make delicious lion's mane cocoa balls that are perfect for any time of the day. They are a real treat and give you a deliciously satisfying feeling. Moreover, they are low in sugar and packed with healthy fats, which are essential for healthy and shiny hair, beautiful nails and glowing skin.
Ingredients
60 g dark chocolate (this may be very dark! The purer, the less sugar)
1 large ripe avocado
1 tsp Lion's Mane powder
2 tbsp maple syrup
1 tsp cinnamon or cookie spice
2 full tbsp raw cacao powder
Steps
Put the dark chocolate in a pot and place it in a larger pot with water on the heat (au bain marie). Melt the chocolate along with the maple syrup and then remove from the heat.
Mash the avocado and add it to the chocolate mixture, along with the lion's mane powder and spices.
Put this in the refrigerator for at least 2 hours.
When the mixture is stiff, use a large teaspoon to make portions that you then roll into balls with your hands.
Sprinkle cocoa powder over your work surface and roll the cocoa balls through it one by one, so that they are evenly coated with cocoa.
Store the lion's mane cocoa power balls in the refrigerator until you serve them.
Cordyceps Oatmeal Cakes: Power food for your body & good digestion
A tip for athletes and people who are active throughout the day: cordyceps is a great medicinal mushroom that provides your body with sustained strength. Thanks to the other ingredients in these cakes, including oatmeal and flaxseed, you will feel satiated for several hours.
Therefore, these cordyceps oatmeal cookies are suitable for people who would like to lose weight and snack less. Enjoy this healthy snack and experience a satisfied and satiated feeling, which helps prevent cravings later in the day!
As icing on the cake, these cookies are perfect for promoting better digestion, thanks to the fiber present in these cookies. As a result, you will have less bloating and feel lighter and more energetic.
Also, these are perfect cookies for children. They get a serving of vitamins, minerals and healthy unsaturated fatty acids, without refined sugar and unhealthy fats such as refined oils.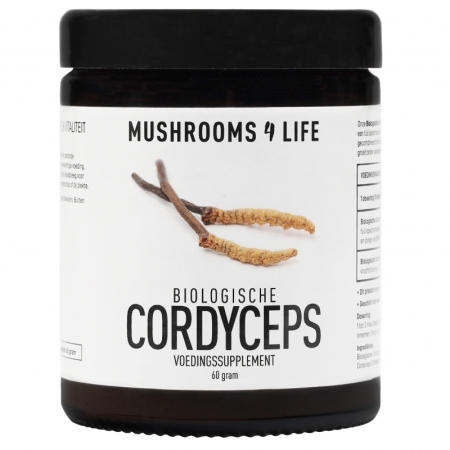 Ingredients
200 g oatmeal
150 g dried fruit (apricot, dates and/or raisins)
1 tbsp Cordyceps powder from Mushrooms4Life
2 tbsp seeds (sunflower or pumpkin)
1 tbsp cinnamon or cookie spices
100 g (vegetable) butter
3 tbsp coconut oil
3 tbsp honey
1 tbsp chia seeds
1 tbsp ground flaxseed
Juice of half an orange
Pinch of salt
Step-by-step plan
Preheat the oven to 175 degrees Celsius.
Take a baking dish and line it with baking paper or grease it with coconut oil.
Put the oatmeal and dried fruit in a food processor and grind finely. Then add the remaining dry ingredients (cordyceps powder, seeds, spices, chia seeds, flaxseeds and pinch of salt) and grind finely in the food processor.
Melt the coconut oil on low heat and stir in the (vegetable) butter, honey and orange juice until you get an even mixture.
Add the wet mixture to the dry mixture in the food processor and pulse until you have a thick, sticky mixture.
If it is too wet you can add a little more oatmeal, if it is too dry you can add a little water.
Then pour the mixture onto the baking sheet and spread with the rounded side of a spoon.
Bake the cordyceps primal cakes for 20 minutes until they look golden brown and crispy.
Remove the baking dish from the oven and let cool for half an hour.
Cut the cake into about 12 pieces with a sharp knife.
Store the cookies in an airtight container.
Also read these blogs about medicinal mushrooms and their effects
Would you like to learn more about the effects of medicinal mushrooms such as chaga, maitake, lion's mane and reishi?
On the Sirius website you can find more blogs with interesting facts about medicinal mushrooms. We want to inform our customers as well as possible about the effects of mushrooms that have a beneficial effect on our health.
Of course, we are also passionate about psychedelic mushrooms. You can also find a lot of information about them.
Furthermore, you can take a look at one of these interesting books about medicinal mushrooms. If you want to deepen your knowledge about mushrooms, it is a good choice to purchase one of the books about mushrooms.
Do you have questions about medicinal mushroom supplements or need advice?
Our customer service team is happy to answer your questions about medicinal mushroom supplements, such as Reishi capsules, lion's mane in combination with magic truffles, or combining medicinal mushrooms.
You can also drop by one of our physical smartshops. There we can best assist you in your search for the most appropriate medicinal mushroom supplement, or a combination of different products that have a synergistic effect and best assist you in having a healthy and vital life.
Did you enjoy reading this article and do you like to write yourself? We are always looking for people who share our passion for natural products, who can also translate this into great texts. And we have an interesting reward for this. View all information for writers.
View all blog items
Also interesting
Read these too