In this blog item
In this blog item
What are nootropics, or smart drugs?
What is biohacking and how can it contribute to a better functioning brain?
What are the best natural smartdrugs for a healthy brain?
Caffeine and L-theanine for a good focus
Try Cannabissimo now, coffee with CBD
Natural smartdrug nootropics: capsules with caffeine
IQ+ Brain Booster
Bionix Brain Power
Bionix Guru Power
Guarana: alternative for coffee
Medicinal mushroom as brain food: Lion's Mane
Does Sirius sell study pills like ritalin and modafinil?
Healthy Eating
Smartdrugs as a supplement to a healthy diet
Order natural nootropics online
Caffeine and other natural nootropics: have you tried these smartdrugs yet?
Reading time: 8 minutes
Posted: 01-11-2021
Caffeine is the smartdrug of choice for most of us. Your first sip of coffee in the morning and the day can start off right. Full of energy, or maybe just less sleepy. That's how it is for me anyway. To give your brain a boost, so you have instant motivation to start studying, working or tackling your to-do list.
What are nootropics, or smart drugs?
Humans are smart creatures. Our brain is the most complex organ, which scientists love to explore. We use our brains to come up with new ideas, succeed in our exams, and perform at our jobs. Do you sometimes feel that your brain could function better? Wondering what smartdrugs could help you study better?
Nootropics, also known as smart drugs, are substances that can help with problems with concentration, poor memory and difficulty studying. Caffeine is the most well-known nootropic and is known to stimulate the brain to work better and have good focus. In addition to caffeine, there are other natural nootropics that positively influence your brain.
Biohacking plays an important role in this. By training your body in the right way and feeding it with natural smartdrugs, it is possible to become smarter, have a better focus, think faster and pass by a wide margin on your next school exam.
What is biohacking and how can it contribute to a better functioning brain?
Biohacking actually means a wide range of ways in which we can influence our bodies in a positive way that allows us to improve ourselves. Using natural nootropics to get your brain healthy and fit is also part of it. Basically, you are hacking your own system, changing the chemistry and physiology of your own body so that you have more energy, perform better and feel your very best. Biohacking starts with the basics, including:
Healthy eating: eat fresh, organic fruits and vegetables. Avoid processed foods.
Exercise: challenge yourself and keep moving.
Mindset: have a "mindset of abundance" where you are grateful for all the opportunities in your life.
Smartdrug nootropics: natural medicines for a healthy functioning brain.
What are the best natural smartdrugs for a healthy brain?
Nature has a lot to offer when it comes to ways you can get your brain fitter, healthier and more productive. Here are some natural nootropics that can contribute to a better functioning brain. You'll find these smart shop products in the Sirius product range. Natural smartdrugs based on herbal extracts and capsules with a positive influence on cognitive functions.
Caffeine and L-theanine for a good focus
A cup of coffee in the morning with your first shot of caffeine for the day will not only make you feel wide awake, but also help you maintain better focus and be able to concentrate. However, there are also some drawbacks associated with caffeine and especially when you ingest too much of it: you can start to feel anxious, have heart palpitations and have difficulty sitting still. Therefore, it is recommended that you combine your cup of daily caffeinated coffee with L-theanine. This substance also contributes to a better work ethic and good focus, and at the same time brings down the negative effects of caffeine. L-theanine is found in tea (especially green and white tea) and is also available in capsule form.
Combine 100 mg of caffeine (this is equivalent to a cup of strong, black coffee) and 200 mg of L-theanine.
Try Cannabissimo now, coffee with CBD
At Sirius, you get caffeine as a smart product in the form of real Italian ground coffee beans along with hemp. An ideal combination that combines the uplifting effects of caffeine with the calming properties of cannabidiol.
Perhaps you mainly drink tasteless coffee at the station from disposable cups. Or you spend a fortune at the Starbucks. I can tell you right now that getting your caffeine fix becomes a lot more fun when you make your own cup of black gold in the morning. Get up a little earlier in the morning and make your own brain-stimulating smartdrug with Cannabissimo Coffee, coffee with hemp. Real Italian coffee beans along with hemp seeds and flowers. Rich in cannabinoids including CBD from hemp.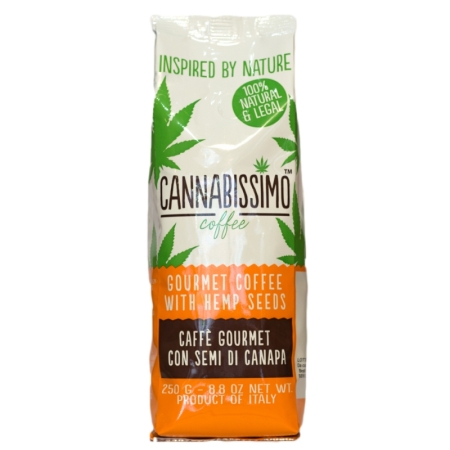 Natural smartdrug nootropics: capsules with caffeine
In addition to your cup of black gold, it is also possible to stimulate your brain using concentration pills that you can get at the smart shop. These are easy to take, well-dosed and contain only natural ingredients for better focus.
IQ+ Brain Booster
The smartshop study pill for students who need extra focus, attention and improved concentration. These natural smartshop capsules contain a combination of Rhodiola rosea root extract, L-Theanine, Bacopa monnieri extract, Griffonia simplicifolia and caffeine. Sirius developed these nootropics specifically for students who could use an extra boost. IQ+ is completely natural and contains no synthetic ingredients. It provides energy to your brain in a natural and effective way, without harming your health. Stick to the recommended dosage.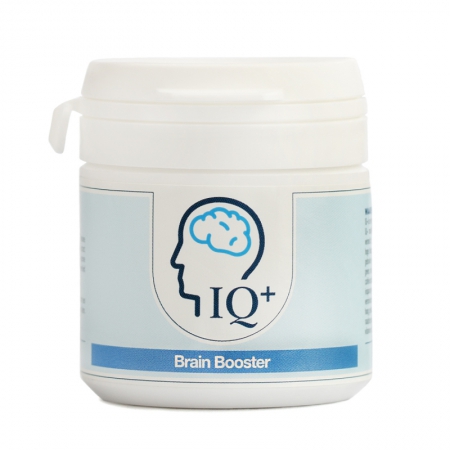 Bionix Brain Power
Smartshop dietary supplement with natural uplifting ingredients for optimal focus, concentration and effective results. Bionix Brain Power can boost brain functioning through its natural herbal preparations, amino acids and B vitamins. A smart drug for your brain, with no adverse side effects.
Bionix Guru Power
Energy the moment you need it: for when studying, working long hours or a long drive in the car. Bionix Guru Power is a dietary supplement that works fast and immediately provides lots of energy.
The special ingredient of Bionix Guru Power (Cola nitida) is kola nut. Kola nut is the seed of a tree and contains various uplifting substances. This smartdrug has been used for centuries as a means to work longer, be stronger and think better. Kola nut also has a fat burning function, makes you stay alert longer and has a better stamina.
Guarana: alternative for coffee
Would you like to get rid of your daily cup of coffee and are you looking for an alternative? Then guarana (Paullinia cupana) might be the perfect coffee substitute for you! Guarana has stimulating properties and is a well-known ingredient in various energy pills and energy drinks. It contains just like coffee caffeine, but this is released gradually giving you long lasting energy without making you shaky or restless. Furthermore, guarana contains theobromine, the substance also found in cocoa. Like caffeine, theobromine provides energy, a clear focus and can also provide a pleasant feeling. Not for nothing that a piece of dark chocolate makes you happy!
Guarana is available in powder form and easy to mix through a smoothie, fruit juice or other beverage.
Interesting blog about guarana: "Energy all day long with these guarana recipes!"
Medicinal mushroom as brain food: Lion's Mane
A natural cognitive enhancer in the form of a medicinal mushroom. Lion's Mane (Hericium erinaceus) is recommended by mycologist Paul Stamets himself as the mushroom for a healthy brain. Research shows that Lion's Mane can get the brain fit and slow down Alzheimer's disease. Lion's Mane promotes good memory and healthy neurons.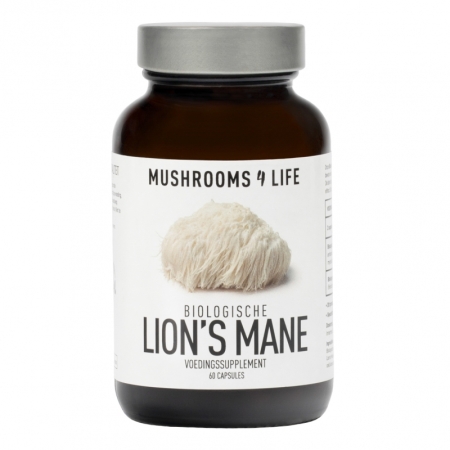 Does Sirius sell study pills like ritalin and modafinil?
Many students turn to drugs to boost their performance. Not surprisingly so, because studying has only become more intense in recent years and there are major consequences. For example, the cost of tuition is incredibly high and failure in your exams means you have to pay such a high sum again in order to retake or resit the year. Furthermore, there is a lot of pressure on students to succeed and score high marks. Many students therefore suffer from performance pressure and may suffer from concentration problems, fear of failure and depression.
Sirius sells natural medicines that can help your brain with poor focus, difficulty concentrating and with quick distractions. You can train your brain and make it fitter by applying various biohacks and by using natural stimulants. Here are some important aspects that contribute to improved concentration and a healthier brain.
Healthy Eating
First and foremost, it is important to eat healthy. Your brain needs a lot of energy to perform. If you eat too little, or are deficient in vitamins and minerals, it's not surprising that you'll trigger diseases and have problems. Give your body what it needs.
Lots of fresh organic fruits and vegetables. Support your local farmer(s) and get most of your diet from here. Furthermore, avoid as much as possible (heavily) processed foods that contain large amounts of refined carbohydrates such as white bread, pasta... Eat fermented products, sourdough bread, beans, tofu. Do you want to eat meat? The best would be to slaughter an animal yourself.
Smartdrugs as a supplement to a healthy diet
It is very important for a healthy brain and concentration to eat well and healthy. On top of that, you can supplement your diet with smartdrugs that provide additional support and positively influence your study habits.
Order natural nootropics online
At Sirius you can easily order your favorite nootropic online. Study pills, energy capsules and real brain boosters for the best results. Order now in the Smartshop category or visit us in one of our stores in Maastricht or Roermond.
Did you enjoy reading this article and do you like to write yourself? We are always looking for people who share our passion for natural products, who can also translate this into great texts. And we have an interesting reward for this. View all information for writers.
View all blog items
Also interesting
Read these too