In this blog item
In this blog item
The Highlife Cannabis Cup
Gorilla Cookies Autoflower
Watermelon Punch Autoflower
Organic and efficient cannabis growing
The best cannabis seeds to grow indoors
Quality and origin
Growers Choice cannabis seeds review
Reading time: 7 minutes
Posted: 22-12-2021
As I was perusing Sirius' seed collection at the beginning of the outdoor growing season, there were a few seed companies that caught my eye. Most of the brands are familiar to me. In the sense that I know the company or their people or that I have grown the seeds before. The name GrowersChoice I had heard of before, but I didn't know the company or their strains. About time for a Growers Choice Review!
The Highlife Cannabis Cup
In 2021, I had the honor of judging with TheStonedSociety* at the Highlife Cup.**
That day we judged two of my favorite categories. The Bio Haze and the outdoor category. However, it was no small feat. In these two groups alone, there were over 40 strains to test. Each strain was judged extensively on presentation, on smell, how it tastes, what the effect is and how it burns. This last one I personally think is the most important. Even more important than the effect it has. If you have rolled a pure joint that burns well and regularly without having to light it every time. And that leaves a nice light-colored, almost white ash. Then it is good quality cannabis that has been properly grown, dried and cured. The head office was decorated as a smoking lounge and with the presence of delicious food and drink, it was no punishment for me to take a good look at all the varieties. A day to remember so to speak. Later, at the award ceremony, the name GrowersChoice came up several times. Immediately I knew where I knew the name from. After some searching through the lists of prize winners of the past four Highlife Cups, GrowersChoice comes up with a nice list of which they don't have to be ashamed.
2018
2019
2020
2021
2nd, category C, Autoflower strains, Tropicana Wedding Cake.
3rd, category G, Skunk varieties, Brain Damage.
2nd, category K, Outdoor varieties, Chocolat Sherbet.
*The driving force behind TheStonedSociety is secretary at VOCnederland (Verbond voor Opheffing van het Cannabisverbod), founder of CannabisIndustrie.nl and co-founder of The Homegrown Cup and De Gouden Gieter.
**An annual Cannabis Cup between shops and breeders. Organized by Soft Secrets.
Gorilla Cookies Autoflower
Unfortunately, 2021 was a bad year for autoflowers in outdoor cultivation. The months of May, June and July were very rainy and wet, even resulting in flooding. Because of this, my Gorilla Cookies Autoflower didn't reach its full potential. What was noticeable was that the seed had a good germination. In 2 days it had sprouted and grown big enough to be placed in the ground from the coffee filter.
The growth also showed that it was a vital plant. Only for a good bloom you need a lot of sun. Rain, on the other hand, is something you can't use as well. Something that was totally reversed in the summer of 2021. But despite this situation I was able to harvest her in reasonable condition and she became a nice little smoke. She had quite a thick layer of resin over the buds, which is recognizable for the Glue. Also the heavy full taste is very much like Gorilla Glue but with a touch of Cookies.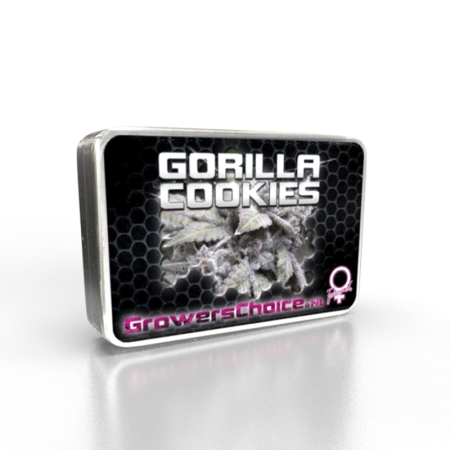 Watermelon Punch Autoflower
Under the same conditions I also grew a Watermelon Punch Autoflower. I was also able to harvest her in reasonable condition. This outdoor growth has shown that the two autoflower varieties are very mold resistant and that they can survive a wet and cold summer just fine. You notice when growing this plant that it is a true hybrid autoflower.
With long stretched sativa-like buds and with a penetrating sweet indica smell, it is a nice auto strain descended from their photo-period strain, the Watermelon punch. Despite the circumstances, it turned out to be a very strong weed. Because of this I can imagine how the plants would flower under the right conditions. The name "Punch" is not undeservedly chosen. This very potent cannabis can develop a high value of THC and can literally give you a punch.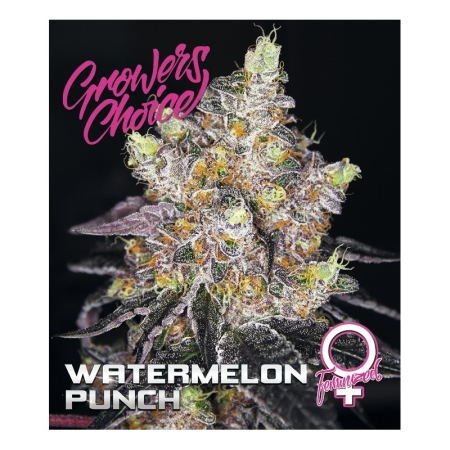 Organic and efficient cannabis growing
I grew both plants on a mix of soil and perlite in an 18 liter pot. This size is large enough for the entire life cycle of an autoflower. For four of these pots I used one Biotabs starter kit. Two Tabs I break in half, so each pot has 2.5 Tabs. The rest of the nutrition in the kit is enough for the rest of the growth. I water with rainwater, but ordinary tap water is sufficient. The PH-value is regulated by the nutrient itself. In this way it is easy and unobtrusive to grow four small autoflowers in your garden for your own consumption.
The best cannabis seeds to grow indoors
After some research, I also ended up with some growers who have grown GrowersChoice strains indoors. With very stunning results. Not only does it look good, it's also a really tasty cannabis. Are you an indoor grower or planning to do so sometime? Then these two strains are highly recommended for your grow tent.
A reference to "The Incredible Hulk". Big, green and strong, everything this plant has. When grown indoors this is one of the strongest cannabis strains available. The buds of this 50/50 hybrid strain are covered in a thick layer of trichomes and give a high yield. This Bruce Banner 3 tastes sweet and has the famous diesel aroma.
Together with Bruce Banner also one of the strongest strains available. Besides a very high THC-content this strain also has a high CBD-content and is therefore also good for medicinal use. If you want to smoke a joint of this, make sure you have nothing to do for the rest of the day. Because there won't be much left to do either. With a flowering time of about 8 weeks you grow reasonably fast with a high yield. And because of the high mold resistance she is also good at growing outdoors.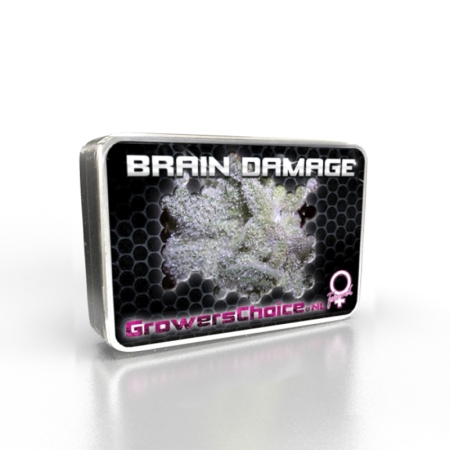 Quality and origin
GrowersChoice supplies high quality feminized cannabis seeds. Photoperiod and autoflower varieties. These are very diverse. They have haze, kush, original Dutch seeds, American genetics, medicinal varieties and much more to offer. For the outdoor grower they also have several varieties that are very suitable for outdoor growing in the Dutch climate. Many American genetics come from outdoor plants in Colorado and California, making many strains highly resistant to mold. They also have a large assortment of autoflowering seeds. Even the most popular strains are available in autoflowering form. Ongoing they are selecting and breeding strains from different genetics. A selection of their best strains are available here at Sirius.
The people at GrowersChoice started out as hobby growers in 1996. Another grower taught them how to crossbreed and select cannabis strains. With this, their passion was born. When they then mastered feminizing cannabis seeds, they quickly achieved success in the cannabis market. In 2011, they started selling seeds themselves under the current name, GrowersChoice. Their team now consists of enthusiastic growers, some of whom even have a professional horticultural background. They aim to put a smile on every grower's face with their super-genetics.
Did you enjoy reading this article and do you like to write yourself? We are always looking for people who share our passion for natural products, who can also translate this into great texts. And we have an interesting reward for this. View all information for writers.
View all blog items
Also interesting
Read these too