In this blog item
In this blog item
CBD, CBG, Tea, and more
CBD Tea & Coffee
CBD Oil – CBD Terps Oil Day
CBG Oil
Reishi & Hydrocotyle Tea
Microdosing & Lion's Mane
Medicinal Mushrooms
Hemp Protein and MetaRelax
Hemp Protein and CBD Oil: these Health Products I use every day
Reading time: 8 minutes
Posted: 17-10-2022
In our modern age, living a healthy lifestyle has become somewhat more difficult, because of faulty advertising and greedy cooperations. In most of processed food that is sold in the supermarket or fast-food restaurants, there is little nutrition present, instead a lot of sugars, calories, and other unhealthy stuff can be found. On the other hand, it is now easier than ever to inform oneself about what kind of substances the body needs, and ordering health supplements online has made access to a healthy lifestyle available to almost everyone.
Still, a lot of people are confused and unsure, because there are so many different products, and so many people have different ideas and opinions on what is 'absolutely necessary' for a healthy lifestyle. With this blog, I just want to let readers know what kind of supplements I've tried and integrated into my everyday life.
You should still inform yourself about what it is that you are looking for in your life and not just blindly follow the health advise of some authority.
After reading this blog, you should check out our Healthshop to discover a wide range of products that suit different kinds of demands; I am sure there is something good for everyone available in the Sirius Healthshop.
CBD, CBG, Tea, and more
I am very happy that more and more people are becoming aware of the medicinal properties of CBD. While a couple of years ago, most people would have never associated compounds found in cannabis with living a healthy lifestyle, the science now has shown us that, especially the cannabinoid cannabidiol (CBD) has a large potential to treat different kinds of diseases as well as just being beneficial in everyday use of healthy individuals.
Did you know that besides it's use against depression, anxiety, and pain, CBD can also be used to counteract the effects of THC, the famous cannabinoid that is responsible for the psychoactive effect of cannabis? If you are someone who has had some negative experiences with potent cannabis before, you should try out taking some CBD products in combination with THC-containing weed, or just find a strain that contains high levels of CBD. This can really make the experience of taking cannabis more pleasant and easier, especially for beginners.
Check out our CBD Shop to discover all the different products we offer. Regarding my own use, there are three kind of products that I would like to review here:
CBD Tea & Coffee
I generally like tea a lot, and CBD tea is one of my favorite kinds. With CBD tea, you can easily integrate the beneficial properties of CBD into your everyday life. Just find a taste that you like and drink one or two cups every day. You can do this instead of drinking coffee regularly, but if you still want to enjoy your caffeine kick, then there is also CBD coffee available at our shop.
CBD Oil – CBD Terps Oil Day
CBD Oil is one of the easiest and most popular ways of taking CBD on a regular basis. There are many different kinds available, with different CBD concentrations (%), additional ingredients (for example vitamin D3) and even different tastes and aromas. One of my favorites is the CBD Terps Oil 'Day' from Cibiday, because it has a good taste and 5% CBD is generally my go-to.
CBG Oil
CBG is like CBD and THC a cannabinoid, but it is less well known. Slowly but surely, it is also becoming of major interest to scientists and patients around the world. I've heard that it acts similar to CBD, and I can personally confirm that. However, I find it is specifically suited before going to sleep, so I've you're looking for a good, natural sleep aid then you should definitely check it out. Like most other CBD oils, it is available in 2,5%, 5%, 10% and even 15%.
Reishi & Hydrocotyle Tea
Besides CBD Sirius offers a wide range of herbs and powders that you can make tea with. One combination that I found beneficial for my health is that of Mushrooms 4 Life Reishi powder and Open Up Hydrocotyle. Both of these substances have their own properties that are beneficial for cognition, mind and body, and you can read more about them in our blogs. What I really like about this combination is that the tastes work together quite well (I would still recommend to add another tea bag and / or milk, honey etc.) and with just 1 pot of tea I have a big package of beneficial properties ready in the morning. Really practical if you want to live healthy while still having a busy schedule.
Microdosing & Lion's Mane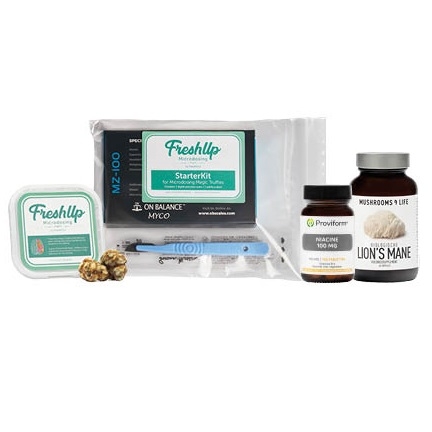 One of the most fascinating health trends of the recent years is Microdosing. Before I continue to write about it, I have to make a disclaimer: Taking a psychedelics like psilocybin, even if it's in very small doses, always comes with a set of risks. Before you engage in it, you should inform and prepare yourself properly. If you have no idea about microdosing psychedelics, then please do some research yourself.
For those already familiar with the matter, I can only say that I've engaged in microdosing for some time and I really liked it. It was quite a step for me to take truffles before going to work, and I was quite nervous the first time doing so. However, as the doses of FreshUp Microdosing truffles I took was very small (around 0.5 grams), there was no 'tripping' or something like that, just a slight enhancement of sensations, both from inward and outwards. I also combined it with Lion's Mane and Niacine B3 (as recommended in Paul Stamet's Stack Formula) and really felt that I was able to focus better and enjoy a healthy lifestyle in a completely new way.
If you are more interested in reading about Microdosing, check out this blog. Please always make sure you are well informed and prepared before taking psychedelics, no matter the dose. If you have any kind of medical condition, you should always talk to a medical professional before ingesting any substances.
Medicinal Mushrooms
Besides Lion's Mane and Reishi, other medicinal mushrooms are available in the Sirius healthshop. They all have their different properties, but all of them are good for your health without any side-effects! We offer medicinal mushrooms from different brands; all of them are high quality, and you can pick one based on your personal preference.
If you are more interested in learning about cordyceps, shiitake, chaga and others, then you can check out this blog. Additionally, there are two books available (one essential guide for those who just want to learn the basics, and a clinical guide for those who want to learn more) in the Sirius healthshop that provide interesting information about the most common medicinal mushrooms.
Hemp Protein and MetaRelax
Although I am not a real 'gym bro' as some of the people I know, I still try to live a active and healthy lifestyle. While going to the gym and/or exercising outside regularly is the most important part of a healthy lifestyle there are some supplements that I can recommend if you want to enhance your progress in the gym. One of this is Hemp Protein from Medi Hemp. Everyone who works out knows that protein is absolutely essential for muscle growth. Hemp seeds are a good natural source of protein, and the blend form Medi Hemp is very tasty! You can choose between cacao and berry flavor.
Next to proteins, magnesium is another health essential that is important for an active lifestyle. In the Sirius Healthshop, a complete magnesium complex that also contains important B vitamins is available.
While there are still other necessities for optimal bodily function, I find that these two are essential and should be included in any diet. As they are also vegan friendly and do not induce any side effects, you should really try them out yourself.
While these are just some of the things available at the Sirius CBD- and Healthshop that I've tried, there is much more that I still like to check out. You should definitely browse through our large assortment of natural beneficial supplements to find something that just fits your taste and needs! If you have any questions, don't hesitate our customer service per phone or email!
Did you enjoy reading this article and do you like to write yourself? We are always looking for people who share our passion for natural products, who can also translate this into great texts. And we have an interesting reward for this. View all information for writers.
View all blog items
Also interesting
Read these too