In this blog item
In this blog item
Break through ingrained patterns
You vs. your environment
Microdosing as a tool for a conscious life
What is microdosing with psychedelics?
Microdosing with magic mushrooms and truffles
Rewire your brain: natural psilocybin, Lion's Mane and niacin
How does the Stamets Stacking Formula work?
Psilocybin and the treatment of depression and addictions
Microdosing with psilocybin according to the Stamets Stack Formula
Reading time: 9 minutes
Posted: 12-02-2021
Microdosing with psychedelics is a good exercise in subtlety, regularity and conscious awareness. Almost without thinking about it, certain patterns begin to emerge that repeat themselves in your life. You may suddenly realize the junk you feed your body and mind every day, whether it comes from the snack bar or your Instagram feed.
In this blog, we focus on microdosing with psilocybin, a natural psychedelic that has deep roots within the world of healing, releasing illnesses, "demons," and harmful patterns. A pioneer in the field of mushroom research, the famous Paul Stamets, devised a special modern formula that combines the power of psilocybin with a number of other natural substances to create a super cocktail for the brain. This is also called the "Stamets Stack Formula" or the "Paul Stamets Protocol" and consists of:
Magic Truffles (psilocybin): 0.5 - 1 gram.
Lion's Mane: 5-20 grams fresh or 50-200 mg dried.
Niacin/vitamin B3: 100-200 mg.
But what exactly do these ingredients mean and what schedule does the Paul Stamets Stack formula work on? You'll read it all in this blog.

Break through ingrained patterns
Sometimes life rolls on at such a pace that, in retrospect, you only realize that it was time for a change or transformation. Throw off the old, throw away your skin, get rid of the thick skin you were attached to. You don't have to keep lugging around anything. The Greek gods have not punished you with some hellish task, making it feel like the whole world is resting on your shoulders. Yet it can feel like life is trying to checkmate you and at the same time there seems to be no end to the maelstrom of thoughts and feelings, which turn into actions, into habits that don't seem to make you happy.
Everyone may fill in for themselves why they are walking around here on earth. What the reason is for all this. Whether it is a dream or "reality. Whether there is a purpose or not.
You vs. your environment
I myself have only recently discovered how much I am shaped by my environment. How I literally make myself sick by spending too much time in a situation that is unhealthy for me. When I look back on my life I see that school can be labeled as 'unhealthy' for me at times, in which I lost my curiosity, creativity and authenticity to some extent. How could you expect anything else from a gray, depressing building with a lot of sensitive, young individuals who were "drilled" by a few jaded adults ready for retirement?
As I look around, I see how the people I interact with are still struggling with certain pieces of their past. A small or large trauma that still demands attention and is often suppressed. It is laughed away, drank away, waved away. It is not acknowledged and so it continues to express itself in certain ingrained beliefs and patterns. You find yourself with your nose to the grindstone and have no idea where the head and the tail are anymore. In this muddle, it seems like an impossible task to ever be able to redeem yourself. Nothing could be further from the truth and I made this joyful discovery during an encounter with psilocybin. Of course you can break a pattern, you are the only one holding yourself captive.
Microdosing as a tool for a conscious life
Whatever is going on in your life, whether you feel like you are the captain of the ship, or almost drowning, there are always tools and opportunities offered to you to grow.
For me, microdosing is one such tool. The very gentle, actually imperceptible power of the psychedelic can have a profound effect on certain "obstacles" in life. Letting go of stubborn habits for example. Think of an addiction, a habit in which you harm yourself (and your environment) and experience this as a problem. This can seem very difficult (impossible) to break, until you become aware. Microdosing helped me with this, and I wasn't the only one: a study with smokers showed that 80% of the participants were able to quit tobacco (after a six-month follow-up), after being given psilocybin as part of cognitive behavioral therapy.
What is microdosing with psychedelics?
Microdosing psychedelics means that you take a very small amount of active substance on a regular basis. Best is to follow a certain schedule, in which you take your dose every few days at a fixed time (usually in the morning). This over a period of time, from a few weeks to a few months. In general it is recommended to take a break after about eight weeks, to integrate the lessons into daily life.
Microdosing with magic mushrooms and truffles
Personally, I have experience primarily with microdosing with magic mushrooms and magic truffles. Both contain the active ingredients psilocybin, psilocin and baeocystine.
The difference is mainly in the two products themselves: magic mushrooms or psilocybe mushrooms are the fruiting bodies of an underground mycelial network. Magic Truffles, also called sclerotia, are hard tubers that are found underground and serve as energy reserves. However, it is also possible to microdose with cannabis, LSD, LSA, mescaline-containing cacti and with DMT. Each psychedelic has its own characteristic properties.
Microdosing with psilocybin generally gives users an increase in creativity, a positive influence on social contact, a reduction of anxiety and depressive feelings. Some people report an increase in "spiritual awareness. The effects of a microdose are so subtle that they are present but do not make such changes in your day. Everything you are able to do on a 'normal' day should also be possible on a microdosed day.
Rewire your brain: natural psilocybin, Lion's Mane and niacin
According to Paul Stamets, the ultimate brain elixir consists of psilocybin, combined with the medicinal mushroom Lion's Mane (Hericium erinaceus). Added to this is niacin, or vitamin B3, for extra good absorption of the active ingredients. This natural nootropic could be a powerful tool to improve your brain functions, counteract neurodegeneration and above all break old patterns.
The brain in a lot of people has become too controlled and has started to work too 'hard'. People with depression or addiction show a certain overactivity in the brain that in turn promotes diseases such as Alzheimer's. Most of the thoughts and images our brains produce are eternally the same and not productive. The brain loses some of its creative potential.
Paul Stamets is all too aware that many people are struggling with a "sick brain," and his Stacking Formula is a tool to revitalize the brain, get it back to healthy connections, and bring a breath of fresh air to all that fretting.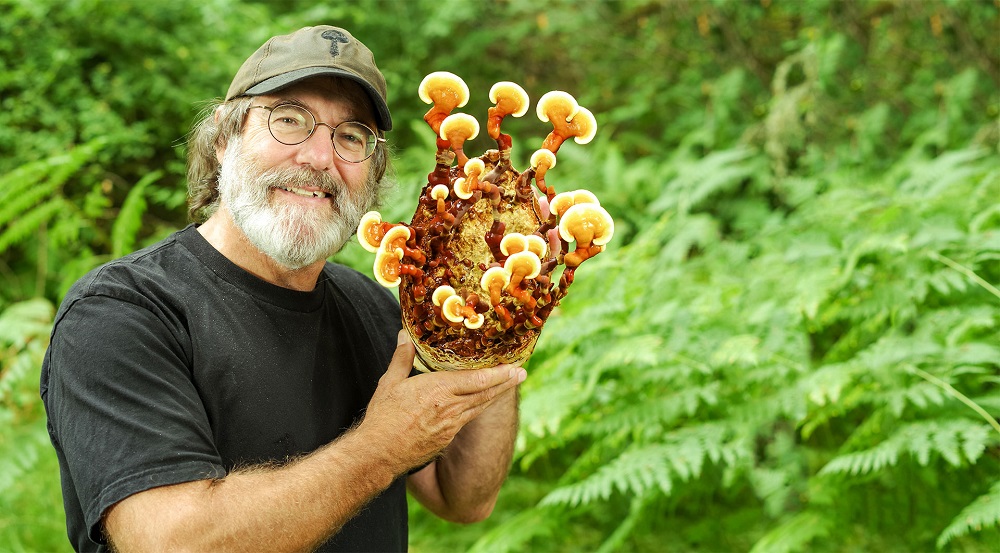 How does the Stamets Stacking Formula work?
As mentioned earlier, microdosing goes hand in hand with following a certain schedule. There are a number of options available and you can test for yourself what works best for you.
I myself kept to the following schedule:
Day 1: in the morning, half an hour before breakfast, I take my microdose.
Day 2: No microdose
Day 3: no microdose
Day 4: microdose
Etc.
Below is an overview of the different ingredients and the amount needed.
FreshUp microdosing Magic Truffles (psilocybin): 0.5 - 1 gram. This serving contains the same amount of active ingredients that were also present in Sandoz' therapeutic pills, which were used in the 1960s to treat people for anxiety disorders and PTSD, among other things. This was before the War on Drugs started. With the help of this Microdosing StarterKit you will have all the tools at hand to dose the truffles correctly.
Lion's Mane: 5-20 grams. This medicinal mushroom helps the brain become stronger, produce a protective layer and slow down the deterioration of the brain. While it is of course top notch to consume fresh Lion's Mane, there are other cheaper and more practical alternatives. Mushrooms For Life offers organic Lion's Mane capsules. Two capsules contain 1 gram of dried fruiting bodies and mycelium. This is converted to 50-200 mg of active ingredients (herinacins and erinacins).
To get the recommended amount of Lion's Mane you need to consume 3 grams of dried concentrate per microdosing day. Converted this is 50-200 mg active substances.
Take 3 x 2 capsules per day to reach the Stamets Stack Formula.
Niacin/Vitamin B3: 101-200 mg. We get this vitamin from our diet and it plays an essential role in certain vital functions. For example, it is important for a healthy metabolism and having a healthy brain. Too little of this vitamin can lead to forgetfulness, feeling depressed and headaches. Niacin can have the side effect of temporarily causing red, itchy patches on the skin and making you feel warm. This so-called "niacin flush" is harmless and disappears about an hour after ingestion.
According to Paul Stamets this flush actually helps to improve blood flow, since the small blood vessels open up more. This would allow the active ingredients from the mushrooms to penetrate deeper into the body.
Together, the combination of the three elements of the formula create a synergistic effect that helps the brain renew and improve.

Some long-term effects may include:
Better memory and stronger cognitive skills
Counteracting signs of aging such as forgetfulness
A better learning ability
Increased creativity
Being better at problem solving
Psilocybin and the treatment of depression and addictions
In this day and age, it is not generally accepted for someone with a depression or addiction to seek help from psychedelics. Nevertheless, many studies have since been done that demonstrate the effectiveness of psilocybin, among other things.
Do you have questions about microdosing after reading this blog? Do not hesitate to contact our customer service. We are happy to help you!
Did you enjoy reading this article and do you like to write yourself? We are always looking for people who share our passion for natural products, who can also translate this into great texts. And we have an interesting reward for this. View all information for writers.
View all blog items
Also interesting
Read these too