In this blog item
In this blog item
Don't panic, it's organic!
Back to basics
From lifeless rockwool to fertile soil
Breaking a vicious circle
The skin of the earth
Biotabs teaches every cannabis grower to think in organic terms
Organic cannabis growing is the future according to Biotabs and Sirius
Reading time: 7 minutes
Posted: 27-05-2021
If cannabis were a woman, I'm sure she'd prefer to lay naked in the sunniest spot in the garden. She would love things that make her glow: sunshine and living energy, straight from nature. Her beautiful locks, colors and shapes would be best appreciated thanks to a healthy and varied diet, plenty of outdoor air and, of course, love.*
Don't panic, it's organic!
Isn't it strange that we have to use the word 'organic' to describe what should actually be considered normal?
As a wise woman said to me the other day, "what used to be considered a normal piece of vegetable a hundred years ago or so, is now labeled 'organic' and is 'extra expensive'... just because chemical cultivation is now seen as the norm."
In these one hundred years, all sorts of things have changed at a rapid pace with this planet.
Meanwhile we are some years further on and many people start to realize that if we continue with this way of looking at what is 'normal', we cannot keep this up for very long.
There are an awful lot of factors that go into having good health. There are so many underlying issues and unforeseen circumstances that it is impossible to have complete control over them. That's where a bit of acceptance comes in, resigning yourself to what life has in store for you.
Yet there are effective ways, things we can all do to significantly improve the quality of our lives and our environment. This often means: kicking "bad" habits, letting go of what no longer serves us and in many cases...
Back to basics
As a consumer, a cannabis enthusiast, an explorer and above all as a human being, it is important that the choices you make are based as closely as possible on the 'truth'.
Smart marketing tricks constantly try to manipulate your image of reality.
Because of this you increasingly lose contact with your truth, your intuition that can tell you very well what is good for you and your environment! I think that every cannabis lover knows very well what is best for his or her cannabis plants and therefore also for him or herself. Sometimes it's just hard to see the forest for the trees. Fortunately, things are moving in the right direction and Sirius applauds a huge trend in growers switching to organic grow products and finding it out of the question to use chemicals that are harmful to nature.
Check out Sirius' range of organic Growshop products here.
Growing organically, taking good care of the earth and still (therefore!) generating great yields, that's what more and more people and companies are becoming aware of. This is the future and the sooner you jump on this bandwagon, the better!
As Kees Schelfhout, the creator of Biotabs, says: don't panic, it's organic!
From lifeless rockwool to fertile soil
Kees himself began his career in the plant world by growing on rock wool and using heavy chemical pesticides. Rockwool is a commonly used medium for growing plants. It is a synthetically manufactured material that can artificially nourish the roots of your cannabis plants. It is in fact a very controlled way of growing, since the grower can determine to a very high degree of accuracy what the plant is being fed. There is no natural intervention involved at all.
This cumbersome way of growing removes the grower even more from nature and her methods. Nature knows perfectly well how a plant should grow, there is no need for man to interfere and certainly not by scattering and spraying with poisons. By growing on rockwool, a medium without any soil life, the plant is completely dependent on man and the grower is constantly busy controlling it. In addition, rockwool is a material that pretty much refuses to ever decay. Furthermore, growing on rockwool involves huge amounts of waste from minerals, salts and heavy metals that contaminate fertile soil.
Mademoiselle Cannabis would be incredibly unhappy with such an existence and so would you. So why would anyone choose this approach?
According to Kees Schelfhout, among growers there are the most stubborn kind of people you can find.
More and more people are starting to realize the advantages of growing organically. However, there are still many 'chemical growers' who think they have invented the wheel and refuse to abandon their methods, even though there is no way to maintain them. According to Kees it won't be long before a big change will come, where everyone's lightbulb will go on, or there will be strict bans on non-organic cultivation...
Breaking a vicious circle
Kees himself began about 10 years ago with an experiment in which he only cultivates his crops organically. As an experienced grower of special plants, he became increasingly aware of the disastrous consequences of 'regular forms of cultivation', which work against nature instead of with it. The use of chemical sprays began to disgust him, as he saw how the earth became more and more depleted and needed more and more artificial interventions to keep producing.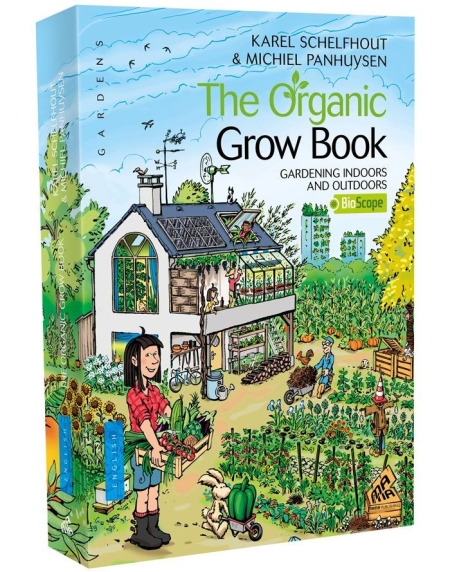 Modern growers and farmers find themselves in a classic vicious circle: the more destructive the cultivation methods they employ, the harsher will be the chaos that this causes on earth.
The skin of the earth
This method of cultivation has caused countless places on earth to turn into infertile desert. The reason for this is that the top layer of earth, you could see it as the "skin of the earth", has been ruined. This is partly due to the heavy industrial cultivation with huge machines, which rip open the soil and destroy its structure. Chemical pesticides also poison all soil life. And without this universe of life underneath the surface of the earth, no plant can grow and everything remains dead.
A healthy "skin" can hold large amounts of water and also carbon. Poor soil contributes to water scarcity and the release of even more carbon into the air.
The first synthetic pesticides to hit the market were developed by the German chemist who also helped develop toxic gases used in World War I and also invented Zyklon, a poison used in the gas chambers by the Nazis in World War II.
As Bill Mollison, founder of permaculture puts it, "modern agriculture is WWIII." In which nature is thus the enemy.
Biotabs teaches every cannabis grower to think in organic terms
Taking care of your own cannabis plants or having your own vegetable garden does not have to be difficult at all. You do not need complicated and expensive equipment and resources such as PH meters, synthetic food and poisons for plants. You basically don't need to "buy" anything to cultivate healthy plants. Everything has been available for a long time and you normally only need to direct a little, to make everything as efficient as possible (for the grower).
A forest is a good example of an ecosystem in which everything seeks its own balance and becomes all the stronger, as more biodiversity is created. This is a process in which as many different organisms as possible work together to form a network that holds the whole system together and creates an environment that is bustling with life! That's what you want for your cannabis plants, right?
*I like to imagine that the cannabis plant is a beautiful goddess, which I take care of as best as I can so that it is in optimal health (until the moment that I harvest it, then it's better to think of it simply as a cannabis plant, otherwise it becomes a bit sinister).
Did you enjoy reading this article and do you like to write yourself? We are always looking for people who share our passion for natural products, who can also translate this into great texts. And we have an interesting reward for this. View all information for writers.
View all blog items
Also interesting
Read these too