In this blog item
In this blog item
Choose good genetics
Choose the right variety
Grow several varieties
Grow organically
Weather forecast
Protect your plant against moisture
Protect your plant against strong winds
Protect your plant from sunburn
Darkening
Tips for better outdoor growing
Reading time: 9 minutes
Posted: 18-08-2021
Our Dutch climate sometimes leaves much to be desired. Especially in the autumn it can be rainy and wet in our country. For most photosensitive strains this is the period when the buds actually need some sunshine and no rain and high humidity. This is often a challenge due to our climate. Fungi, such as mildew, and root rot are lurking.
The biggest culprit and nightmare for every (outdoor) grower is Botrytis cinerea, or; bud rot. It has destroyed many a harvest and rendered buds unfit for consumption. And I can't repeat it often enough, don't smoke mouldy weed. This is toxic! Especially if the cannabis is consumed for medical reasons.
The later in the year, the worse the weather can be with storms and wind chills. The hemp plant is a strong plant. Only we do not use it for its bark and fiber, but for its flower tops. Over the years she has been crossed on this and partly because of the large flowers she can produce, she can become very fragile during a big autumn storm.
To best protect your plant and to make sure she reaches her end point, here are some tips for better outdoor growing.
Choose good genetics
A good start is half the work, it is often said. This is also true when growing cannabis. Therefore it is important to buy good seeds from reputable seed companies. Our assortment consists of a large supply of these seeds. And Sirius.nl is constantly looking for the best seeds and adding them to the assortment.
I am proud to say that we at Sirius.co.uk work with seed companies who have been breeding their seeds and species for several decades. This results in healthy, strong plants that are highly resistant to fungi. In these species the phenotypes are also close together. This means that all plants from the seeds of the same species have few differences and become virtually the same plants. This way you will grow the variety you like and you will not be in for a surprise.
Click on the logo to view the seeds of a specific brand:
Choose the right variety
When growing outdoors, it comes down to timing. It has to happen in a certain period and what the conditions are then we cannot influence. In other words, a little bit of luck is needed. The timing starts with germination. If you do this too soon, the young seedling will start looking for light. Then it will become a long thin sprig that can quickly snap or even flower prematurely. If you germinate too late then there is a chance that the plant will not reach its full potential. There are varieties of cannabis that react quickly to the reduction in light and there are varieties that react less quickly.
There are species with a long and with a short flowering phase. For a successful outdoor cultivation it is therefore important to choose a variety with an early and a short flowering time. Seed companies are responding to this trend and fortunately more and more of these outdoor varieties are coming onto the market.
Grow several varieties
Of course you can also choose an autoflower. Because these automatically start their flowering phase when they are mature, they can flower much earlier in the season. But here too it comes down to good timing and luck. Often in the Netherlands we have very wet summers with lots of rain in the months of June through August. This is precisely the ideal period for autoflowers to bloom. And with our five plant tolerance policy the yield can also be a lot lower. To spread the risk, you can choose to grow both types of plants and choose both autoflowers and some photosensitive varieties.
Grow organically
Fungi and diseases often occur in nature and are not uncommon. In fact, we could not live without fungi. And something that is natural also has natural enemies. By growing organically and choosing only organic nutriotion, you strengthen the resistance of the plant and build a natural defense system for many diseases and fungi. This is not to say that it can't be present, but it doesn't take over so as to attack parts of the plant. And a healthy plant will give more yield.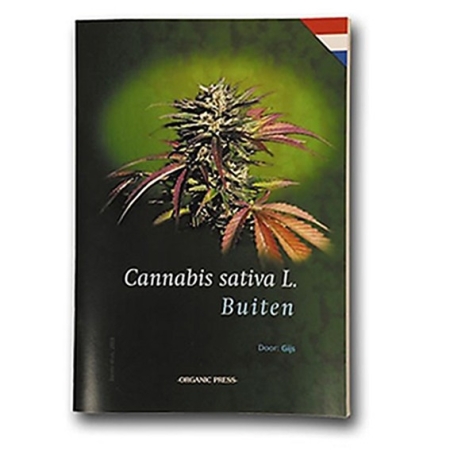 Also interesting: Growing book Cannabis sativa L. Buiten
Weather forecast
Like a real farmer, it is advisable to keep a close eye on the weather forecast. This way you can prepare for the weather to come. Are there beautiful sunny days with no rain in sight? Then there is nothing to worry about and we can enjoy the nice weather and the growth of the plant. But if bad weather and rain are coming, you can anticipate this early and take precautions.
Do not be deterred by the occasional rain shower, the plant can take a beating. However, in our climate it can happen that it rains overnight for a week in the summer months. It is good to know this in advance.
Protect your plant against moisture
With a lot of rain and the damp conditions in the autumn, it is important to protect the plant against this. If you are growing in pots then you can place her in a shed or under a roof. This is easy to do, especially with autoflowers. A photosensitive plant is best grown in a container of 65 liters or more. These are a lot harder to lift and put away. By putting the pot or container on a trolley you can move it more easily.
If your plant is in the full ground it is better to make a roof above the plant. In hardware stores and garden centers are often cheap garden tents available that are ideal to put over the plant. But also with some electricity tubes and some foil you can make a tent. Keep in mind a good ventilation in the tent or under the roof.
A good ventilation in the plant is also a form of protection. Small branches and shoots inside the plant receive little light and get small to no buds. By taking them away the plant will put its energy into the main buds. And if you also remove the largest bracts the wind can blow through the plant better and through the air flow there is less chance of mold caused by moisture.
Protect your plant against strong winds
A little wind is good for ventilation. But in the form of an autumn storm, the wind is less desirable. The main buds can become very heavy when wet. There is a good chance that branches will break or tear off from the trunk. Should this happen, no worries! It looks terrible, but is usually salvageable.
The plant's fibers are so strong that the branch will break or tear but will never completely detach from the plant. Push the branch back to its original position and secure it that way with tie-wraps, tape and other binders. Sometimes you may need a stick to splint her. Use whatever you think will help and be creative. You will be amazed at how strong this plant can be. You can largely prevent breakage and tearing off by placing bamboo sticks or the aforementioned PVC tubes around the plant in the soil. You can also put a fence of garden wire around the plant. Anything to reduce the plant's movement space and protect it.
Protect your plant from sunburn
On the other hand, we also have more and more heat waves with extreme temperatures for long periods of time. For example, in outdoor cultivation I have experienced plants getting burn marks from the bright sun. This is also easily solved by placing a shade cloth over the plant during the hottest part of the day.
Darkening
The best tip for the best possible harvest when growing outdoors. Darkening is, as the name suggests, putting the plants in darkness for a certain period of time in a day. Photo-sensitive cannabis varieties with a late and long flowering phase are difficult to grow in our climate. When growing indoors, at some point one sets the light schedule to 12 hours of light and 12 hours of darkness and the plant transitions into its flowering phase. By putting an outdoor plant 12 hours dark during the day, you can force flowering. You put her in the light at 8 o'clock in the morning and at 8 o'clock in the evening you put her back in the dark. If you do this and you start by putting her in the dark for 48 hours you give her an extra boost to switch to her flowering phase. This will give you a huge advantage. You can grow a large plant and the flowering does not take place in late autumn with all the disadvantages of bad weather.
But beware! Darken once, darken always. When the plant is in her flowering phase the darkening will have to continue. If you do not do this and the plant gets a long period of light again, it will get stressed and go back to the growth phase. The result will be long stretched woody buds. Another challenge in this is to be able to put the plant in a really dark place. A dark shed is perfect. Provided it is really dark, because the slightest ray of light can ruin the whole thing and make the plant stressed.
For plants in the open ground you can make a tent with bamboo sticks or PVC tubes and a light-proof sail. Or even a combination of a canopy and a blackout tent. Be creative!
Darkening is sometimes not easy and timing is very important. But those who do blackout correctly will be richly rewarded with delicious potent outdoor weed.
Blogphoto: Claude Joseph Vernet - A Storm on a Mediterranean Coast
Did you enjoy reading this article and do you like to write yourself? We are always looking for people who share our passion for natural products, who can also translate this into great texts. And we have an interesting reward for this. View all information for writers.
View all blog items
Also interesting
Read these too